Artificial Grass Tee Lines
At SYNLawn Alabama, we provide and install a variety of high-quality artificial golf grass products in Birmingham, AL as well as other Alabama communities, including our incredibly durable synthetic tee line turf. Unlike traditional grass, our superior artificial tee line grass is ideal as long-lasting, low-maintenance driving range golf turf. So if your home or commercial business has a driving range or the space to build one, we at SYNLawn Alabama have the synthetic tee line turf and artificial grass golf mats you need to help ensure high-performance and longevity.

Ideal for Practicing Your Drives
There are several facets to the game of golf. Some situations like putting require finesse, while others, like driving, require a powerful, properly executed swing. To become a well-rounded golfer, it takes mastery over both of these elements and more. So practicing your drives is essential. However, finding or having a durable space to do so can be problematic. Fortunately, our artificial tee line turf can help!
At SYNLawn Alabama, we supply and install durable artificial golf greens that are designed with optimal golf performance in mind. This includes our driving range golf turf for tee lines. Our synthetic tee line turf is high-quality and made in the United States. Although it looks like standard grass, it performs much better over longer periods of time.
Typically, golfers can tear up traditional grass tee lines in a short amount of time, especially if they miss the tee and drive their club into the ground. These holes create potential trip hazards on a tee line and can be inconvenient for other golfers later on. Thankfully, our artificial teel line grass and teel line golf mats are highly durable! They do not develop holes or divots nearly as easily as regular grass, and they are resistant to wear and tear, foot traffic, golf club swings, and even Alabama's weather. As a result, they will last for years, providing a cost-saving, long-lasting tee line for businesses and an ideal driving experience for hundreds to thousands of golfers.
Expand Your Golf Facility or Business
If your commercial golf facility has the space for it, adding a driving range can be an exceptional way to expand your business and allow golfers and golf enthusiasts to practice their drives. Many golf facilities like putting ranges and mini-golf courses would be ideal but not the only options that could benefit from a driving range, especially one with our high-performing artificial tee line turf.
If space is limited at your commercial business or residential home, consider a virtual driving range! Although golf balls will not travel very far, the resilient screen in virtual driving ranges can show golfers how far their ball would travel on a physical driving range or course. These virtual, indoor spaces can be fun additions to many kinds of businesses and homes that appeal to everyone, from professional golfers to children interested in the game. When paired with our artificial tee line grass or golf mats, you can have a durable, long-lasting virtual driving range that can help expand your business, allow you to practice at home, and impress customers, employees, guests, or loved ones.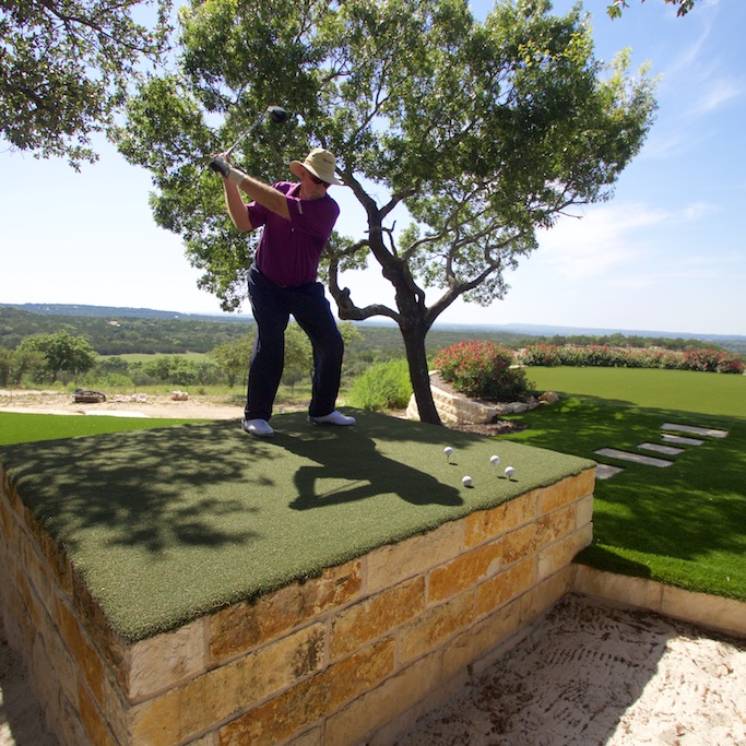 Tee Lines, Putting Greens, and More!
At SYNLawn Alabama, our driving range golf turf for tee lines pairs well with our artificial grass putting greens. Like our artificial tee line turf, it provides the realistic look and feel of traditional grass but without a need for constant watering and maintenance. Our synthetic putting green turf is also highly durable, which helps it last for a long time. It can be installed in backyards, indoors, or even as a residential or commercial mini-golf course.
Request a Free Design Consultation Today!
Synthetic tee line turf from SYNLawn Alabama is a high-quality, American-made surface that is available in Birmingham, Alabama and ideal for physical or virtual driving ranges. Our tee line turf and artificial grass golf mats provide ultra-realistic-looking turf and durability. As a result, they can be used by golfers and golf enthusiasts in a variety of settings for years to come. Contact us at SYNLawn Alabama today to learn more or request a free design consultation!