Artificial Grass for Roofs, Decks & Patios in Birmingham, AL
SYNLawn Alabama has an outstanding reputation as one of the foremost manufacturers and installers of artificial grass for rooftops, patios, and decks in Birmingham, Alabama. Artificial turf has traditionally been associated with backyard lawns, sports courts, playgrounds, putting greens and golf surfaces. Its use on decks, rooftops, and patios has seen a tremendous surge in popularity as more people seek creative ways to reclaim these spaces.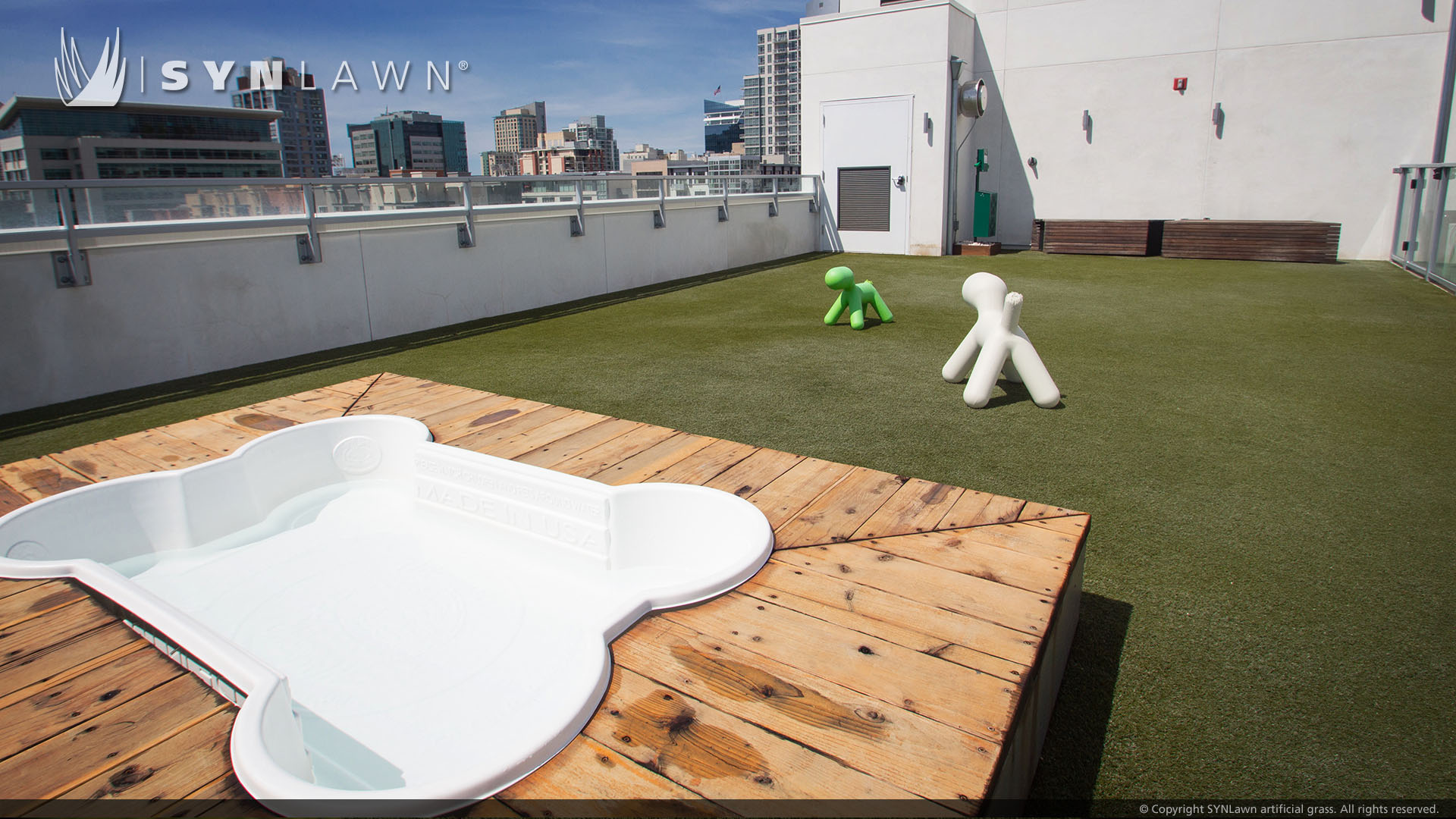 SYNLawn turf is aesthetically pleasing and affords a more luxurious feel than typical brick, wood, and concrete surfaces that are common in many outdoor spaces. Today, SYNLawn Alabama's artificial grass products are installed in numerous restaurants, businesses, hotels, and commercial locations throughout the Birmingham area.
Applications
SYNLawn Alabama's artificial grass has earned praise for its ability to successfully convert ordinary-looking roofs, decks, and patios into luxurious gathering spaces. Our grass is ultra-realistic, comfortable, and low maintenance, making it ideal for entertainment areas at restaurants, hotels, hospitals, residential courtyards, and even play areas.
Not only does SYNLawn turf come with all the environmental benefits of synthetic grass, but it also offers a number of additional perks unique to rooftop applications. To understand more, have a peek at our product gallery.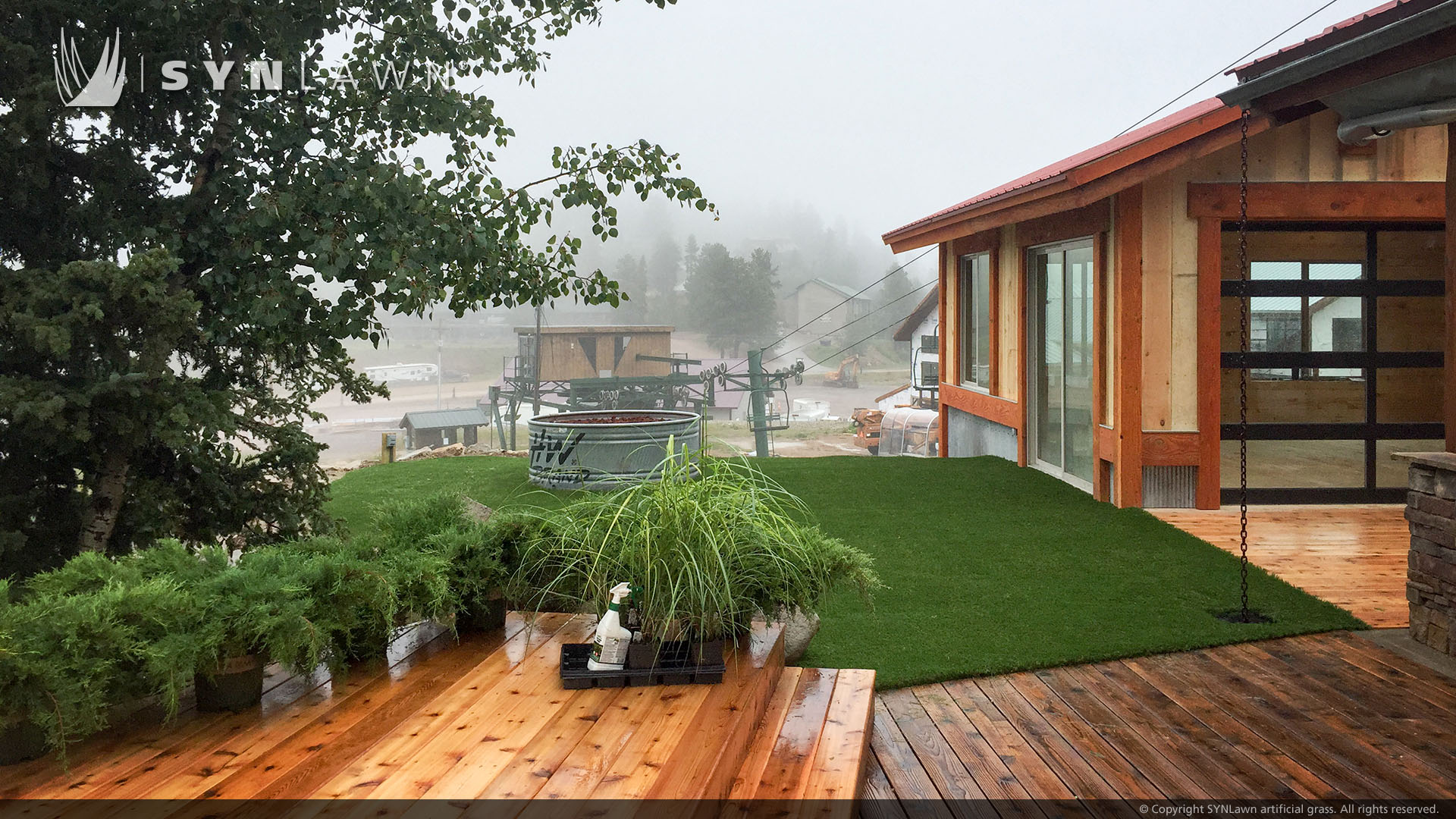 Let's review the advantages of using synthetic turf from SYNLawn Alabama:
The Advantages of Synthetic Turf
Low Upkeep
One of the most celebrated advantages of synthetic grass is its low-maintenance nature. The turf requires no watering, lawn mowing, chemical treatments, or time-consuming landscaping. The only maintenance required is an occasional hose-down to eliminate dust particles.
With professionally installed synthetic grass, you simply need to replace infill periodically or clean and disinfect on an as-needed basis, particularly if your turf experiences a high volume of foot and pet activity.
Attractive
Nothing beats placing artificial grass on a roof, deck, or patio when it comes to beautiful landscaping. It completely transforms the aesthetic appeal of a place and improves the property's worth.
Are you looking to build a hidden hideaway in the center of an urban setting, or just a fun hangout spot on top of your house for family and friends to enjoy time together? SYNLawn Alabama can make it happen.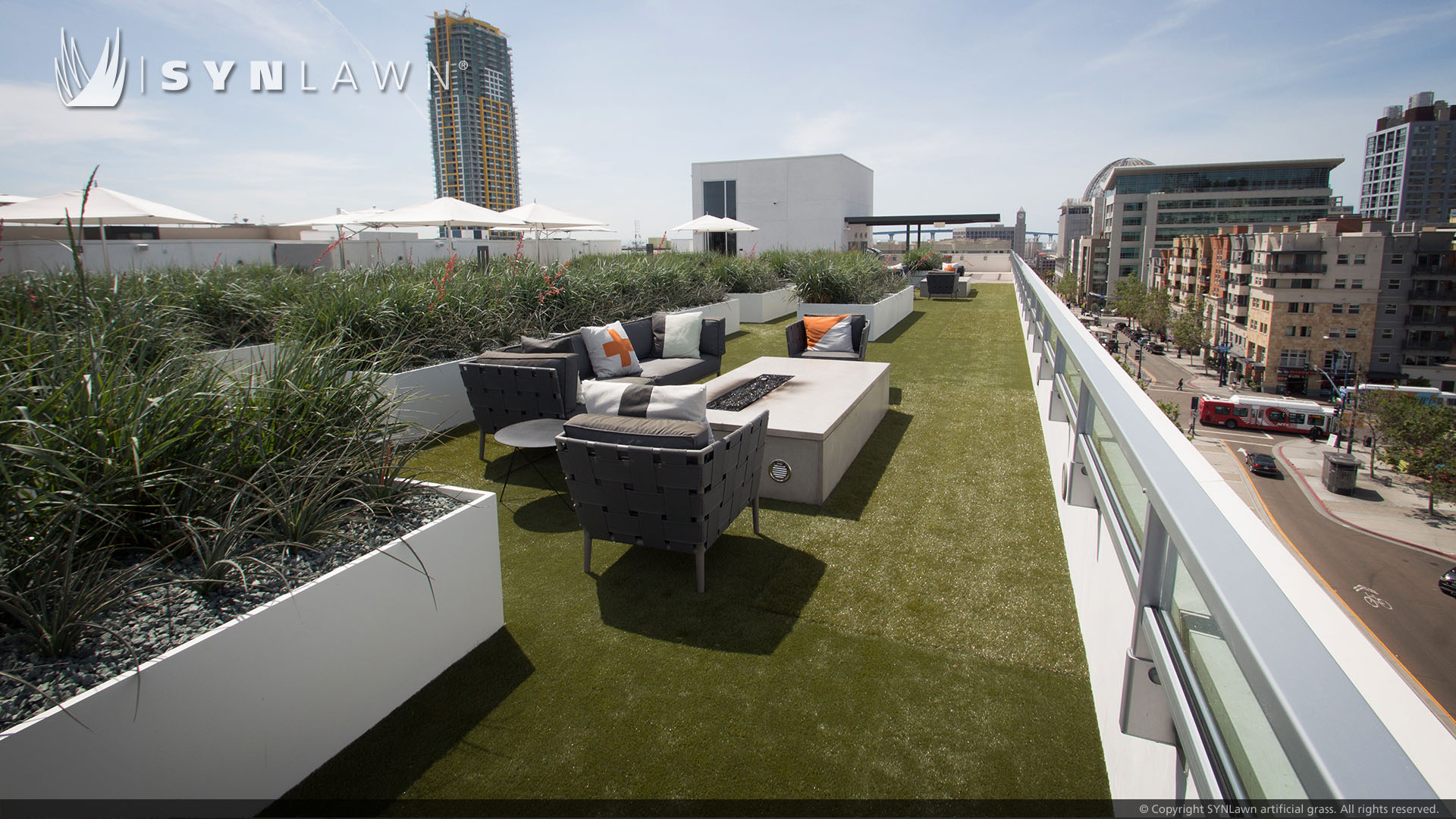 Regulating Indoor Temperature
Many people are unaware that installing synthetic grass on rooftops helps preserve electricity. Installing turf functions as an insulator against severe temperatures and aids in maintaining consistent interior heat, particularly during the winter. This has the potential to reduce energy expenses drastically.
When the temperature is hot, artificial turf aids in the efficient operation of the air conditioner. As a consequence,  it reduces both energy consumption and emissions from heating and cooling systems.
Durability and Drainage
Our rooftop artificial grass is constructed for durability, allowing it to resist lengthy exposure to all types of weather and foot activity. Additionally, because of the ease with which our grass is cleaned and deodorized, it is a great choice for patios and decks used by both children and dogs.
Our synthetic turf comes with an excellent drainage system. When it rains, the water drains through the turf and is efficiently directed to the gutters or drainage systems. This ensures it dries in a timely manner and can be used again quickly.
Are You Ready to Place an Order?
The rooftop, deck, and patio turf products from SYNLawn Alabama are excellent since they maintain their appearance throughout the year, regardless of the weather. The owner is not required to maintain the turf's overall quality and beauty by repetitive watering, mowing, or utilizing harmful fertilizers. Our grass is aesthetically pleasing, long-lasting, economical, and ecologically beneficial.
If you're contemplating installing synthetic grass on your roof, deck, or patio, whether for your home or company, our knowledgeable team will gladly explain the various benefits and take you through the installation process. To arrange an appointment, please contact us.