Artificial Grass for Apartment Buildings and Complexes
Artificial grass from SYNLawn Alabama is ideal for a variety of properties, including apartment buildings and complexes in and around Birmingham, Alabama. Our high-quality synthetic turf products can help provide tenants with consistent, attractive landscaping for their enjoyment. It can also offer building or complex owners a method of reducing costs without sacrificing aesthetic appeal. Our first-rate artificial grass also comes in specialized options to benefit renters with pets and children. Find out more below!
Applications for Apartments in Birmingham, AL
At SYNLawn Alabama, our superior artificial grass and synthetic turf products come with a variety of aesthetic and practical applications. As a result, we supply and install artificial turf that can be used for numerous purposes, such as: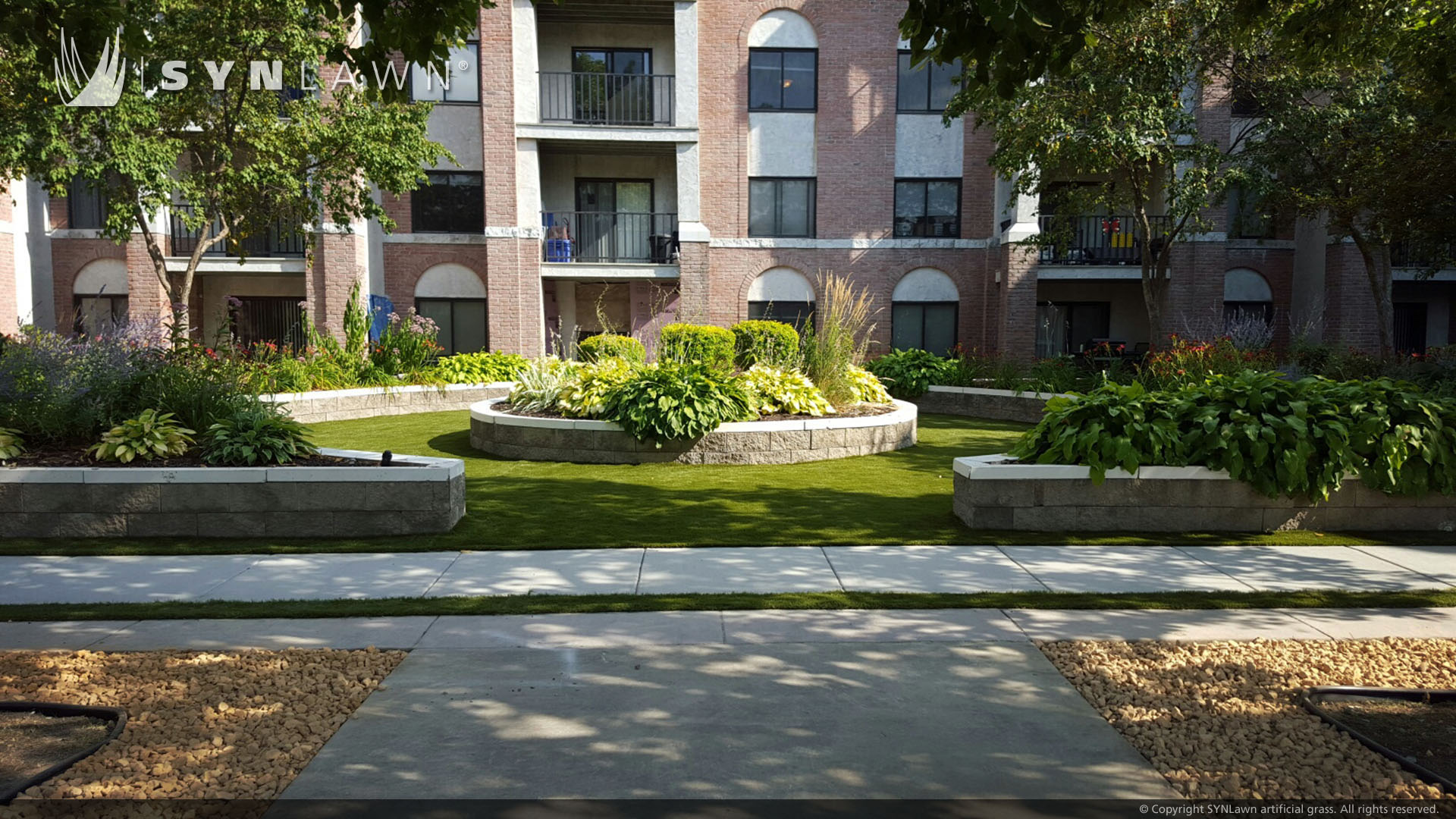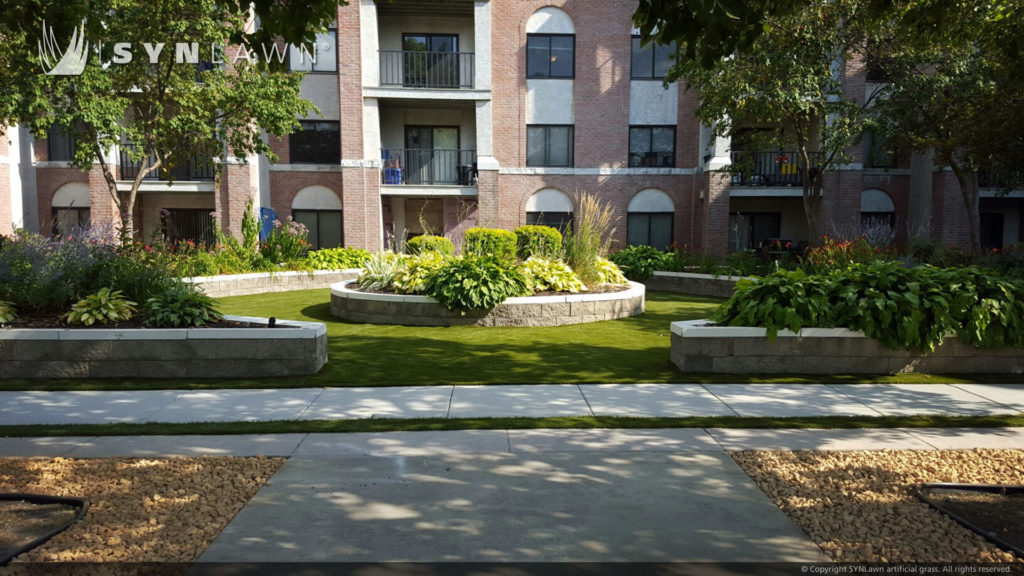 Our wide variety of synthetic turf products can help improve several spaces in and around apartment buildings and complexes. For example, our artificial grass creates stunning, consistent, and low-maintenance landscaping that can help increase curb appeal, while our synthetic turf for roofs, decks, and patios can help reclaim unused or underused spaces in an apartment building or complex. The limits are nearly endless!
Low Maintenance
Artificial grass from SYNLawn Alabama is consistently recognized as an ultra-realistic alternative to natural grass. However, just because our high-quality synthetic turf looks and feels like natural grass does not mean it has the same drawbacks. Instead, our artificial grass provides the lush, green look of natural grass without all of the same maintenance requirements.
Often, natural grass is incredibly needy, requiring almost constant upkeep. This upkeep typically includes consistent watering, mowing, edging, fertilizing, seeding, de-weeding, and more. Activities like these can take up a significant amount of time and money for apartment building or complex owners or the groundskeepers they employ.
Fortunately, our artificial grass products are low maintenance. They do not require apartment owners or groundskeepers to water, mow, edge, fertilize, seed, or de-weed them. Instead, artificial grass only requires a quick, occasional cleaning, and with our quick-draining technology, it is easy to clean our artificial grass just by hosing it down with water.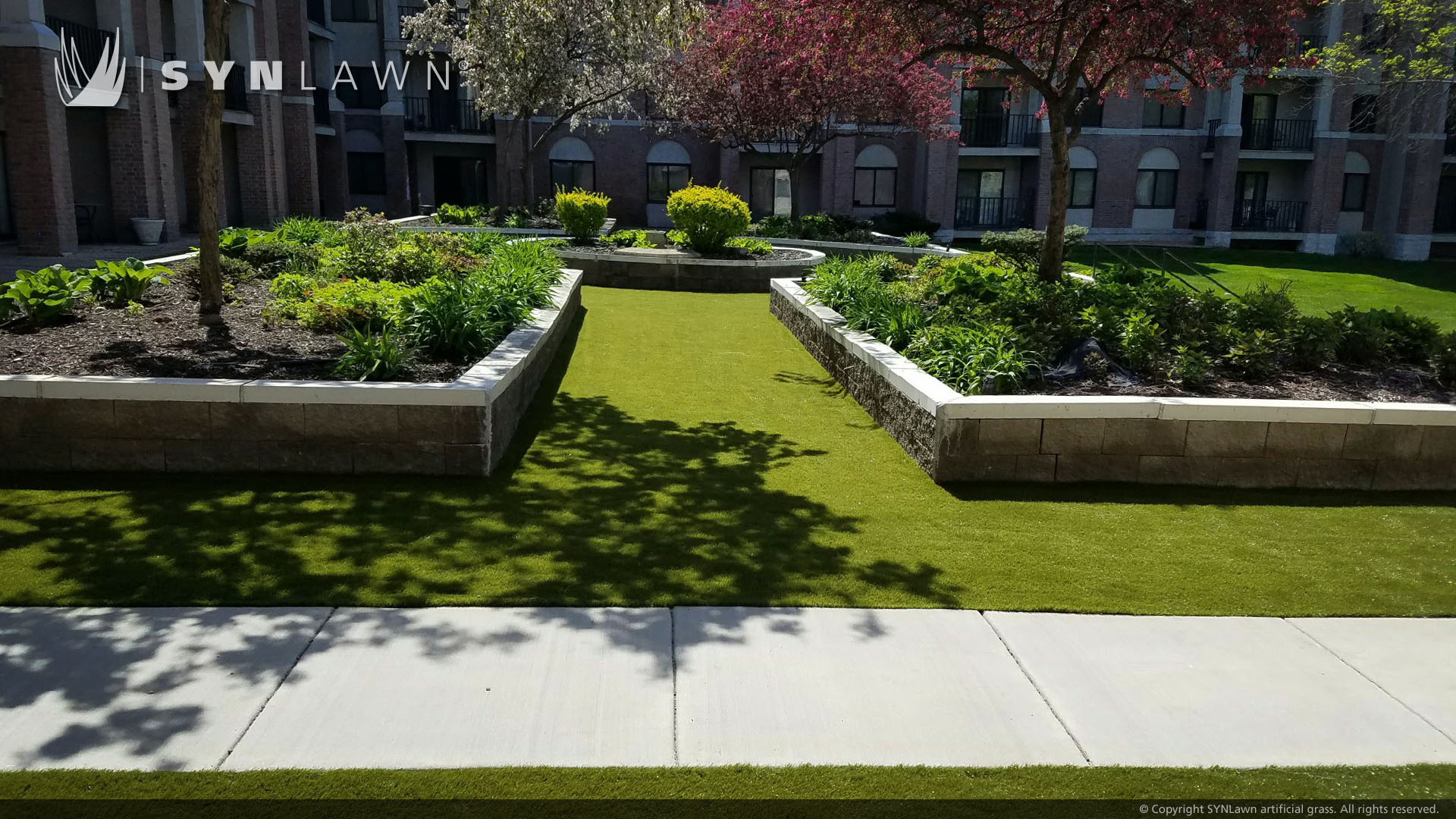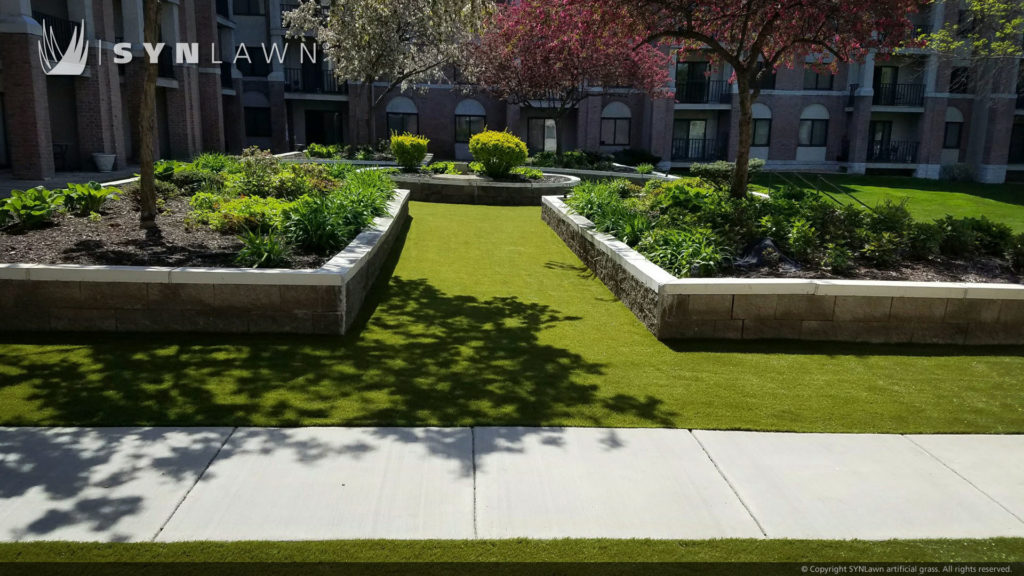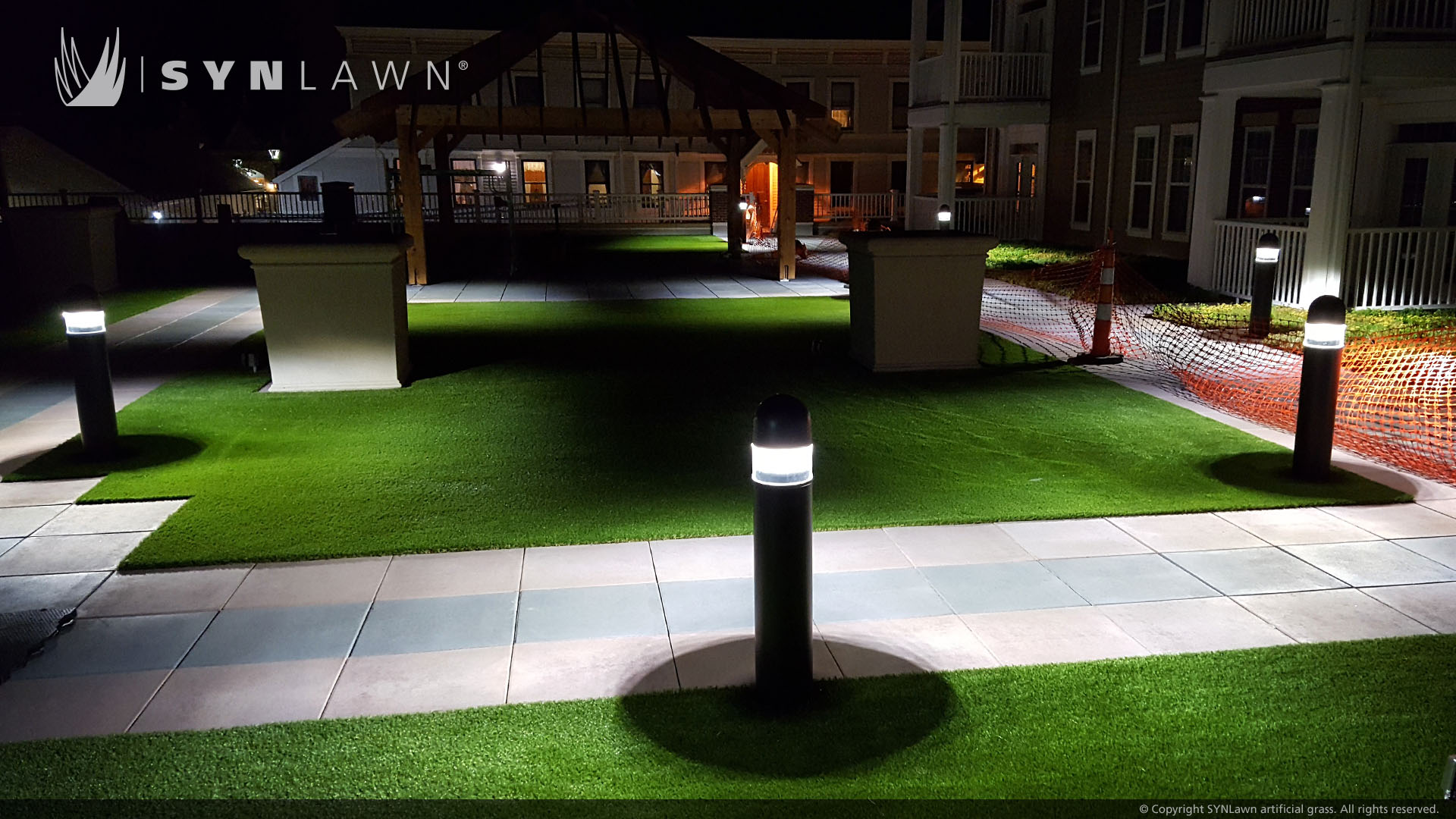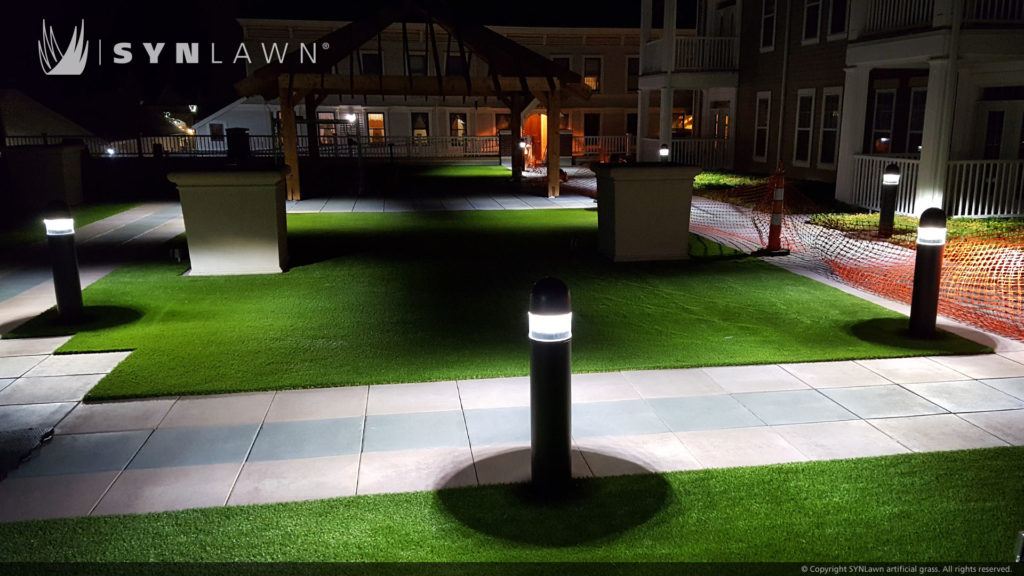 Cost-Saving
At SYNLawn Alabama, the low maintenance quality of our first-rate artificial grass provides significant cost-saving benefits, especially for apartment complex or building owners. First, since our synthetic turf requires no watering, apartment owners can save every month on their water bills. Second, without a need for mowing and treating, apartment owners can also save on their landscaping or groundskeeping expenses. Ultimately, by lowering these expenses, apartment building or complex owners can save an immense amount of money over time, making artificial grass from SYNLawn Alabama a cost-effective investment for your property.
Attractive Addition for Tenants with Families
Artificial grass is a consistently attractive and low-maintenance surfacing material. But, did you know that it is also a safer surface for children to play on? Unlike natural grass, our synthetic turf is durable and remarkably soft. This helps keep it dependable! It does not easily develop divots or holes, which helps avoid trip hazards. And, if anyone falls on it, our synthetic turf is typically softer than natural grass and other surfaces, which make it safer for impacts.
The durability and extra cushioning of our artificial turf products make them exceptionally attractive for parents who want to help keep their kids safer, especially when playing outside. As a result, our high-quality synthetic grass is an ideal addition to nearly any apartment building or complex that is looking to attract families as tenants.
Get a Quote for Artificial Grass Today!
At SYNLawn Alabama, we have a variety of artificial grass and synthetic turf products that are ideal for installation in and around apartment buildings and complexes in Birmingham, AL and the surrounding communities. Whether you are an apartment property owner looking to refresh your landscaping, add a pet area or playground, or take advantage of underutilized spaces like roofs and patios, the team from SYNLawn Alabama has the surfacing solution you need! Our first-rate artificial grass is consistently lush and green, low maintenance, and safer for children and pets to enjoy. These benefits can help attract families as renters and save you money on watering and groundskeeping!
Contact us today to learn more about synthetic turf for apartments or schedule a free consultation!