Artificial Grass for Schools & Daycares
SYNLawn Alabama installs artificial grass at schools and daycares across Alabama to help keep children safer while playing. Our team understands how critical it is to protect kids as much as possible, especially in public places like schools, daycares, and other facilities that care for children. At SYNLawn, we are experienced in installing artificial grass for schools and daycares, and we have a specialized turf that is safer for kids to play on.
Whether at a public school or a private daycare, kids' safety is the first priority. Having a comfortable surface for children to enjoy is critical for happy and healthy exercise and socialization. SYNLawn Alabama offers top-of-the-line artificial grass for playgrounds and recreational areas in Birmingham, Alabama and surrounding cities.
Artificial Grass is Gentle for Kids
With SYNLawn's high-quality artificial grass, there's no longer a reason to use rough, messy playground surfaces like gravel or wood chips. Our soft, gentle synthetic products are far less likely to cause scrapes or cuts than traditional options. Furthermore, unlike conventional grass, our artificial grass won't leave grass stains on clothing.
For children with grass allergies, artificial grass is the best alternative. Schools and daycares with artificial grass instead of regular sod will entice parents of kids who have sensitive skin or allergies.
At SYNLawn Alabama, we install a padded layer beneath our playground turf in order to provide additional support when kids fall. It creates a safer environment overall, and it's durable enough to withstand constant foot traffic for many years.
Our artificial grass and synthetic turf products are built with environmentally-friendly materials and are safety-rated for kids. At SYNLawn, we have several other commercial applications available for artificial grass, and we encourage you to take a look at everything we have to offer.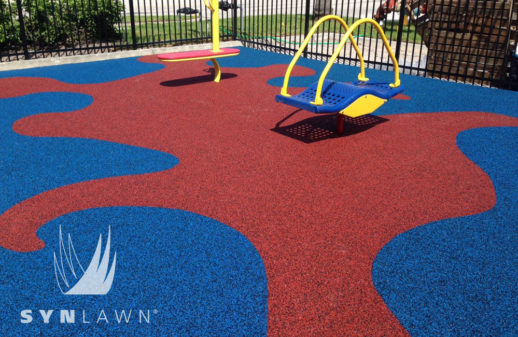 Benefits of Artificial Grass for Schools & Daycares
Our synthetic playground turf and artificial grass showcase countless benefits for schools and daycares. The most notable include:
Hypoallergenic nylon fibers
Superior drainage rate of up to 30 inches per hour
HeatBlock technology that keeps synthetic grass cooler in the summer
IPEMA & CSA approved
Low maintenance & easy to clean
Sandy shoes, grass stains, and muddy feet after a rainstorm will no longer be an issue when you have SYNLawn Alabama's artificial grass installed at your daycare or school.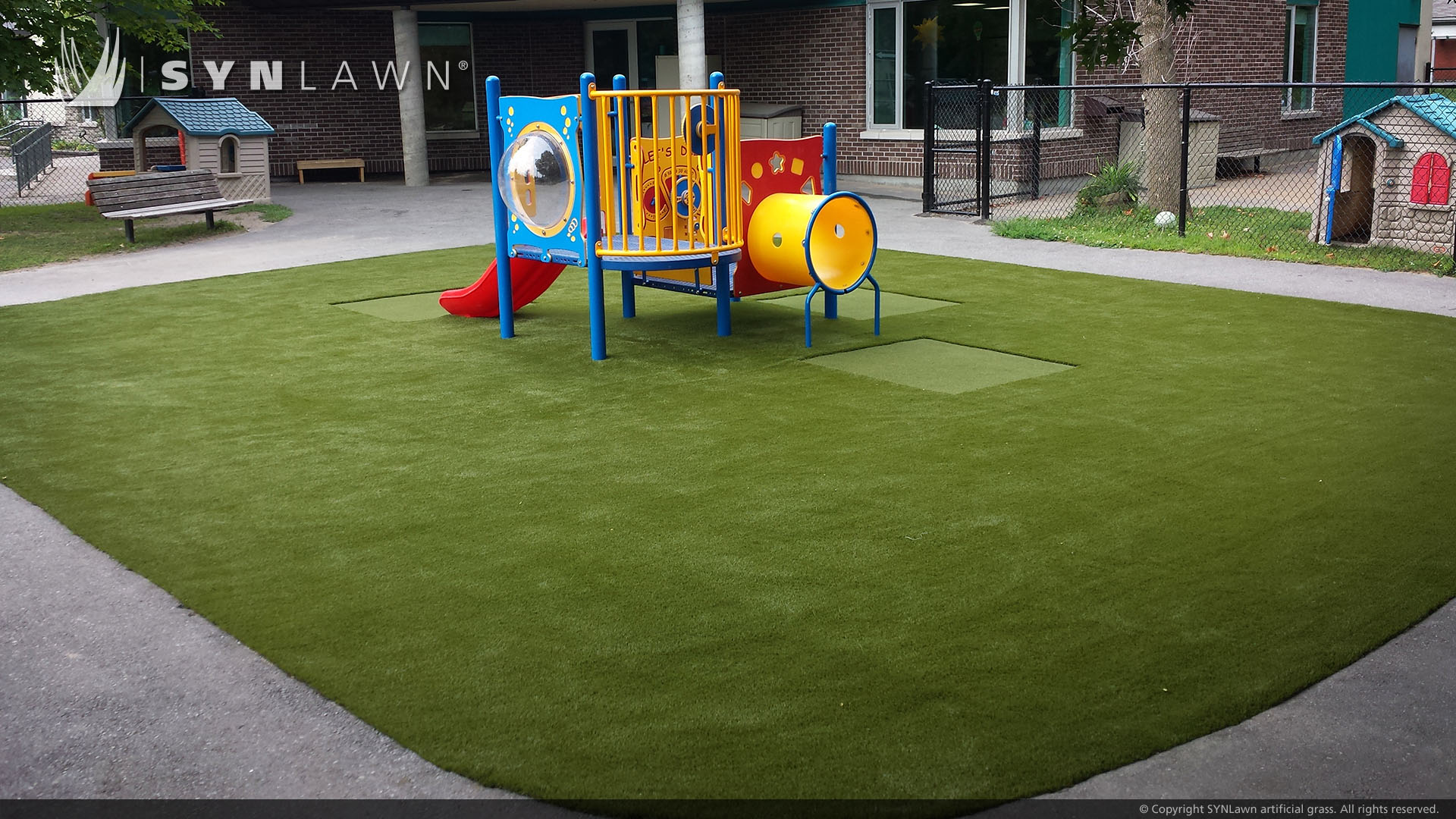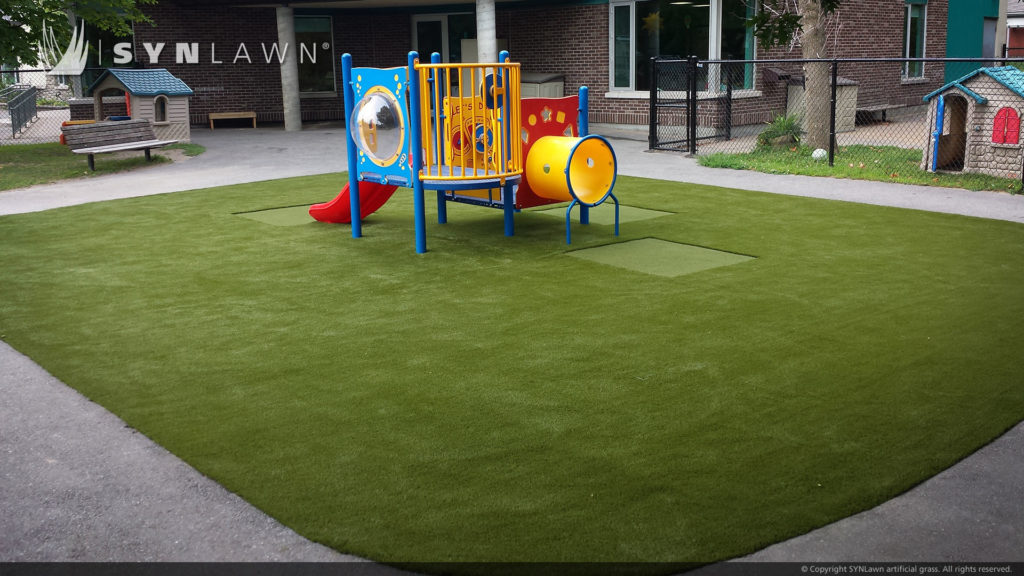 Low Maintenance
Kids can be messy, and the last chore school and daycare facilitators want to do is clean up a lawn or maintain a play yard daily. Thankfully, artificial grass is incredibly low maintenance, and it can be swept with a broom or hosed down for heavier messes. Plus, our synthetic turf does not need to be trimmed, watered, or maintained otherwise. This helps save your daycare or school time and money.
Cleaner & Healthier Than Other Surfaces
Natural grass causes grass stains on clothing. It also pools with rain after a storm. Worst of all, insects prefer nesting in natural grass. Issues like these will no longer be the cause for as much concern when SYNLawn Alabama installs artificial grass at your daycare facility or school.
Our synthetic turf comes with a superior drainage rate. With it, mud won't form on your artificial grass lawn or playground turf. This keeps teachers or caregivers from dealing with the hassle of muddy or wet clothing!
Additionally, kids with allergies or sensitivities will significantly benefit from artificial grass installation. Our synthetic turf is manufactured with hypoallergenic components, meaning kids with natural grass allergies can play on it without their skin becoming itchy.
Contact Us for a Free Consultation!
No matter what type of childcare facility you are operating in Alabama, the team from SYNLawn Alabama has an outstanding artificial grass solution to fit your needs. We encourage you to check out our photo gallery, where you can view various examples of our prior installations. SYNLawn Alabama installs artificial grass in Birmingham, AL and other communities in the area. Our experts are up to the task of assisting you.
Please contact us to receive a free artificial grass installation quote for your school or daycare today!