Artificial Grass for Landscape Contractors in Birmingham, AL
At SYNLawn Alabama, we supply hyper-realistic artificial grass for landscapers and landscape contractors working on projects throughout Birmingham, AL. Our synthetic turf is unrivaled in the state and provides residential, commercial, and other types of properties with consistently pristine, durable, and low-maintenance surfaces. With our vast selection of artificial grass options, we help ensure that landscape contractors have access to the turf they need to meet the unique needs of their many clients.
Supplying Synthetic Grass for Landscapers & Landscape Contractors
Landscapers and landscape contractors working in Birmingham, as well as other communities in Alabama, understand the importance of using high-quality materials in all of their projects. This includes utilizing first-rate surfacing materials like our many varieties of artificial turf. With our state-of-the-art artificial grass, landscapers can impress their clients and offer the type of quality product necessary to help expand their business to include several kinds of synthetic turf installation for homes, businesses, and more.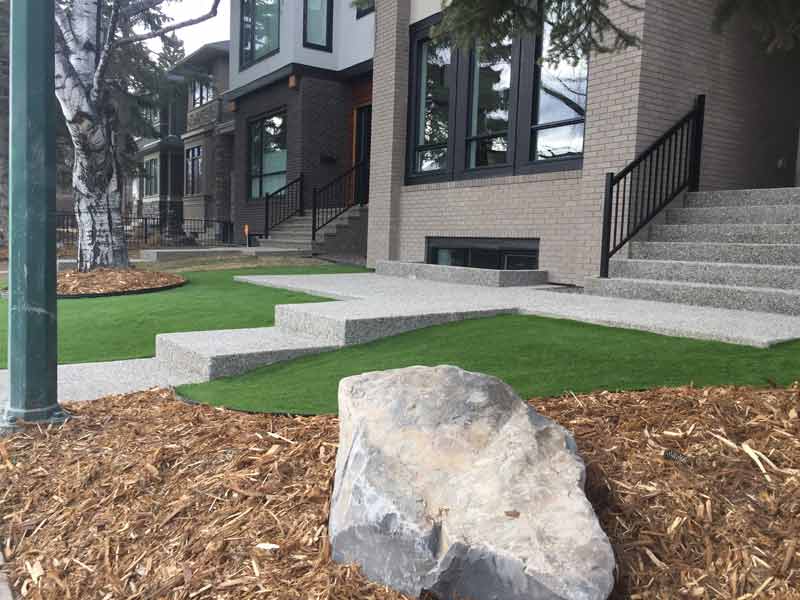 Benefits of Utilizing Our Artificial Turf for Residential, Commercial, & Other Projects
Artificial grass from us at SYNLawn Alabama offers landscape contractors and their clients a number of significant benefits. For landscapers, our artificial turf provides a way for them to expand their business while also being able to offer options for surfacing enhancements for their clients.
For residential, commercial, and other types of clients, our SYNLawn synthetic grass offers numerous advantages in enhancing curb appeal, durability, and cost-effectiveness. This is because our artificial turf is hyper-realistic, so it looks and feels just like traditional grass. In addition, our artificial grass resists wear and tear without requiring high levels of maintenance, making it a long-lasting and cost-saving surfacing solution. These benefits and more make our synthetic turf highly valued by residential, commercial, and other kinds of clients all across Alabama.
Our Selection of Artificial Grass for Landscape Contractors
At SYNLawn Alabama, we offer a wide range of artificial grass for landscapers and landscape contractors. Some of our many specialized options include the following:

As the primary SYNLawn distributor for the State of Alabama, the team from SYNLawn Alabama offers several kinds of artificial turf for lawns, landscapes, and highly specialized purposes. As such, landscapers and landscape contractors can utilize our state-of-the-art products to help craft stunning surroundings for properties all across Alabama.
Why Choose to Offer SYNLawn Alabama's Artificial Grass For Sale?
Choosing an artificial grass supplier can be challenging. There are several options available for landscapers and landscape contractors in Alabama, especially in Birmingham. Yet, not all of these options are the same.
At SYNLawn Alabama, we work with landscape contractors and landscapers to create mutually beneficial relationships. Our team wants to be the supplier for all of your residential, commercial, and other types of projects. To do this, we offer friendly, readily available service to take your orders and have the artificial turf you need ready for you as quickly as possible. We also offer incredibly competitive prices on our synthetic grass, which is among the best in the industry. The combination of these factors makes us a clear choice to be your artificial grass supplier in Birmingham, AL.
Start Working With Us to Get Artificial Grass for Landscapers Today!
Top-quality artificial grass for landscape contractors and landscapers is available for sale in Birmingham, AL from the team at SYNLawn Alabama. We are a leading provider of state-of-the-art synthetic turf products in the state, and we can offer you and your team reasonably priced artificial grass that will help impress your clients – from homeowners to business owners and even apartment complex owners and much more. Contact us today to learn more about our many highly specialized artificial turf products and begin working with us at SYNLawn Alabama for all your synthetic grass supply needs!