Bocce Ball Courts
For a new addition to your home or commercial property that will provide endless hours of entertainment for everyone, turn to SYNLawn Alabama for an artificial grass bocce ball court! Our team can provide you with the ultimate synthetic turf for bocce ball courts that is unparalleled in the industry. Getting outside in the fresh air and being social with family, friends, and co-workers can be an amazing stress reliever, and a little friendly competition doesn't hurt either!
So spend a few minutes with us here at SYNLawn Alabama, and let us show you why a SYNLawn bocce ball court can be an outstanding addition to your outdoor space.
Why Choose Bocce Ball?
If you enjoy casual and easy-to-play sports with your family, friends, or clients, look no further than bocce ball. It is a simple ball-throwing game that was made popular in ancient Greece and Rome. It became the modern casual classic it is today thanks to Italy and is now played around the globe. The name "bocce" is derived from "boccia," which means "bowl" in Italian. While it may appear like lawn bowling, it is more reminiscent of golf.
This fast-growing phenomenon allows up to 8 players and needs surprisingly little equipment! Once you have your new Bocce Ball Court from SYNLawn Alabama, all you need is a set of eight bocce balls and one smaller target ball called a "Jack." The simple basis of this popular past-time is to be the team that rolls the most bocce balls closest to the jack each round. This game is easy to learn and play, and it can be fun for all ages.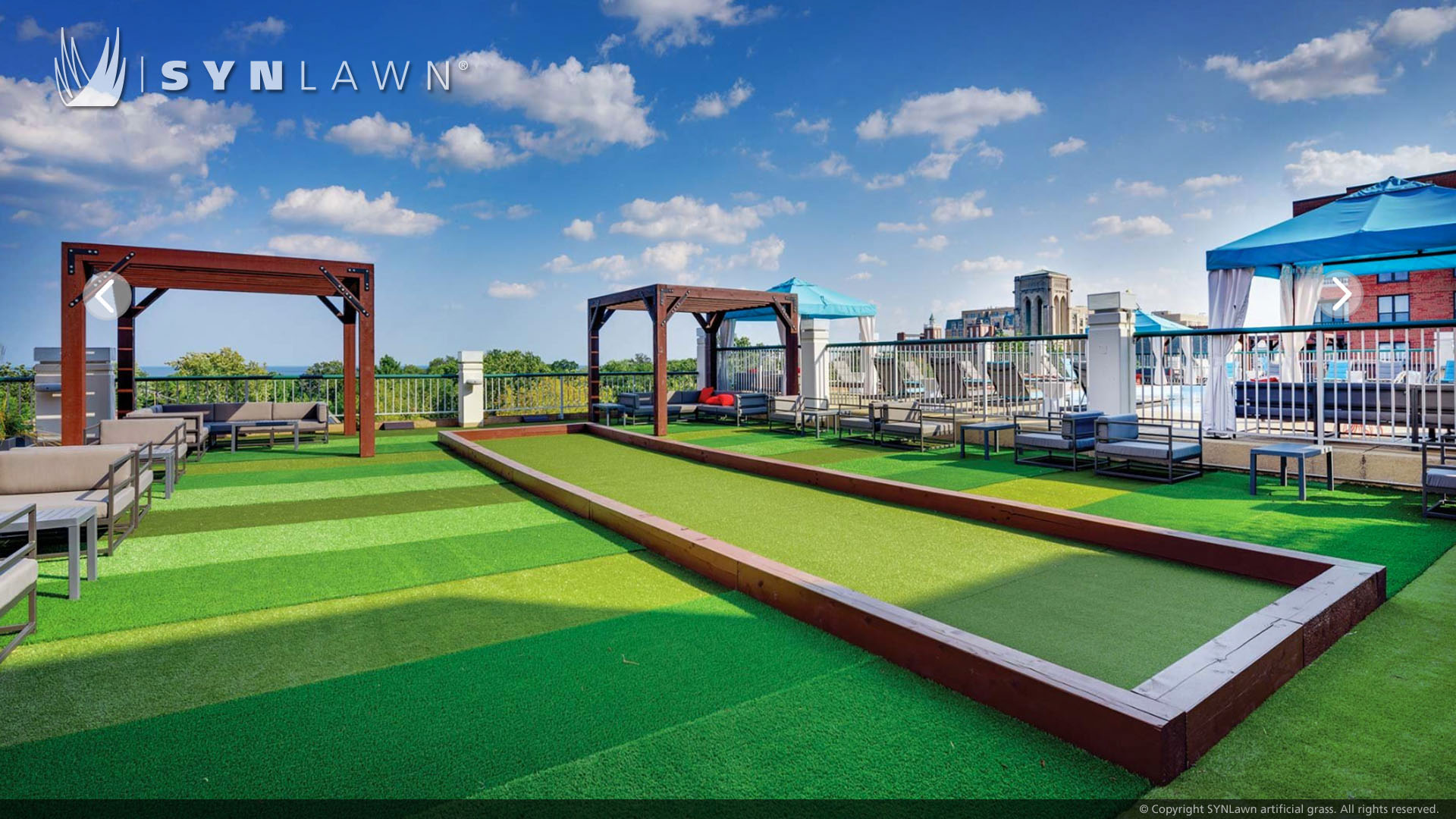 SYNPro Bocce Systems
Stick with the athletic turf professionals and have SYNLawn Alabama provide SYNPro Bocce Systems for your new artificial grass bocce ball court. We have spent years perfecting this system, and it performs at the highest level. We start with a four-inch concrete base over aggregate with a one-degree pitch for ultimate drainage. Then our artificial grass is spot glued with approved commercial adhesives. This helps give players an optimal ball roll with minimal bounce. This method developed by SYNLawn is far superior to the old-fashioned crushed stone, sand, or oyster shell surfaces commonly used for bocce ball courts in the past.
Not only are you now set up with an enviable bocce ball court, but you also have a stunning visual centerpiece to your property that can add value. Our artificial grass for bocce ball has a brilliant green vibrance that will last thanks to our color-fast yarn technology. It also is stain-resistant and uses UV stabilized yarn for heat reduction.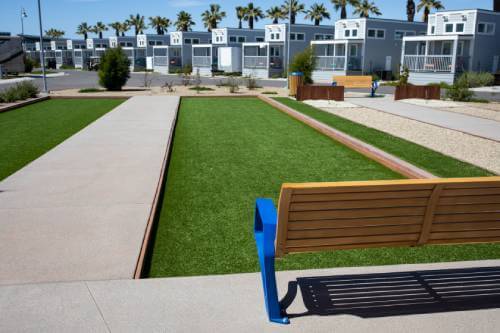 Additional SYNPro Bocce Systems Info:
Low Maintenance
Durable
ADA Compliant Surface
Phenomenal Drainage
IPEMA & ASTM Certified
CAD Details Digital Design Documents Available
With a bocce ball court from SYNLawn Alabama, you can beautifully blend the court with your landscaping to create incredible visual interest. There are numerous bumper board options that can be paired with your business or backyard's unique style. From simple concrete to ornate wooden designs, you can personalize the court.
Another area of customization is the size of the court. Take a look below and see which size works best for your space:
Regulation: 91 Feet Long by 13 Feet Wide
Club: 76 Feet Long by 13 Feet Wide
Residential: 60-70 Feet Long by 10-12 Feet Wide
Remember, it's not about the size of the court; it's about the fun!
Get a Free Consultation Today
At SYNLawn Alabama, we are a leading provider of synthetic turf products, including artificial grass bocce ball courts, for our neighbors across Alabama, such as Auburn, Birmingham, Montgomery, and more. Installing a synthetic turf bocce ball court on a residential or commercial property can be an ideal way to create an inviting environment for people to gather and have fun. For families or businesses, this can help strengthen bonds and reduce stress.
For more information on installing a bocce ball court in Alabama or to schedule a free consultation, contact us today!