Mini Golf Construction In Birmingham, Alabama
If you're thinking about creating your own mini golf course and you need an ace mini-golf construction team in Birmingham, AL then call SYNLawn, Alabama today for the best product on the market.
Is there anything more fun than taking the family or your girlfriend out to the local mini golf course? It's been a staple first date and family destination for decades, and your commercial mini golf construction build is sure to draw crowds. With our design experts you can have your very own artificial grass minigolf course with SYNLawn Alabama. (We do residential mini golf course construction, too.)
The days of unrealistic turf from the 1960s are long over. Synthetic grass design has evolved to the point where artificial turf looks and feels like the real thing. It's the same high-quality green they use in the most famous golf courses in the world.
You can have the most advanced artificial grass system on your mini-golf course. It doesn't matter if you're dreaming of owning your own or need to update the greens at an existing one, SYNLawn Alabama is here for you. Contact us for a free consultation.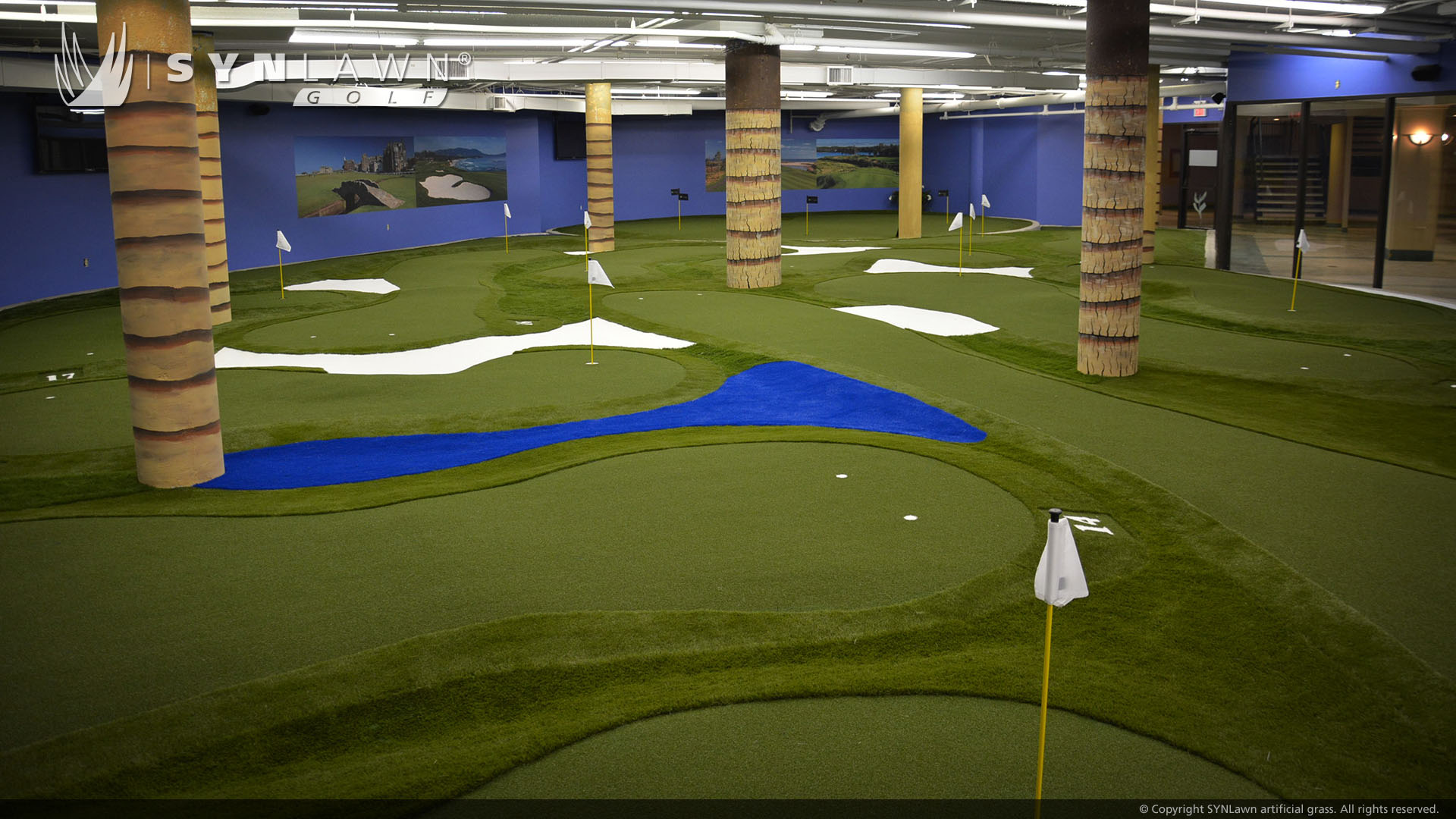 Mini Golf Construction in Birmingham, AL
The time has come. You decided to build your own mini golf course, but where do you start? SYNLawn Alabama has years of experience of helping to bring people's dreams come true with their brand new mini golf construction.
If you have a plan for what your course should look like from unique holes and crazy obstacles, then we can make it a reality. Our expert designers are available to help you get creative, too. Artificial grass is incredibly pliable and malleable, so we can cut it to fit any design you have.
It's incredibly durable to take the years of missed putts and overly aggressive putters. It looks pristine and new while traditional grass requires extensive maintenance and care. You have a new business to run that requires marketing, billing, and more. With artificial turf from us, you don't have to take care of natural grass or need to spend the cash to hire lawn professionals to come in every few weeks.
Artificial grass is everything you could ever want or need for your mini golf course new construction.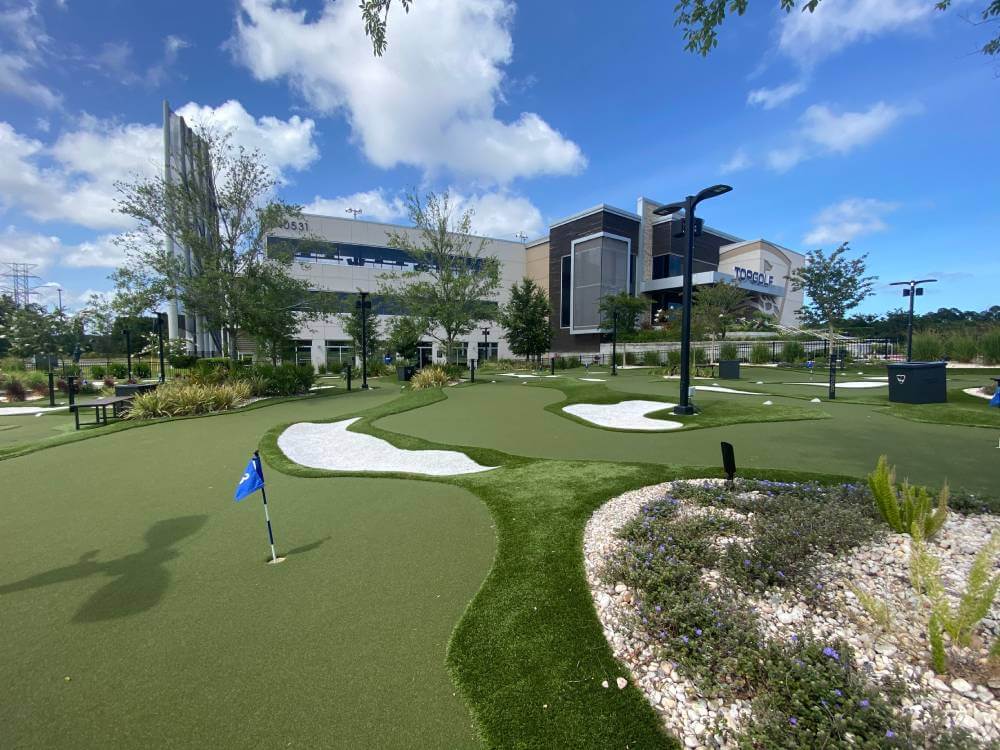 Mini Golf Turf Installation
When you have years of experience in installing custom designed artificial grass lawns in people's yards, playgrounds, businesses, and mini golf courses, you become an expert. Mini golf courses provide numerous installation challenges because of the many curves, dips, and other obstacles placed to make the hole more difficult. Our team of professional installers can handle the complexities of mini golf construction.
Someone not versed in mini golf installation won't have a clue how to cut and make the artificial grass fit your needs. We also have a large selection of turf types, colors and grass blade lengths, so you can have a unique terrain that neighboring golf courses don't have.
In the world of business, it often pays to be different and have something no one else has. If you want someone to install your artificial turf right the first time and have it look amazing for years, then trust the experts at SYNLawn Alabama.

Mini Golf Design
You want your mini golf course to be unique. Work with our expert design team to help you create the mini golf course design. Most companies just show up for the installation and then they're gone, but we work with you from concept to finish.
Talk to our professionals and we'll help you design a course that looks great and utilizes the unique benefits of artificial grass. While your competition tries to water and mow their grass every week, you can sit back and focus on growing and building your burgeoning business.
We have a lot of experience in helping people design their golf courses and can't wait to talk to you about yours.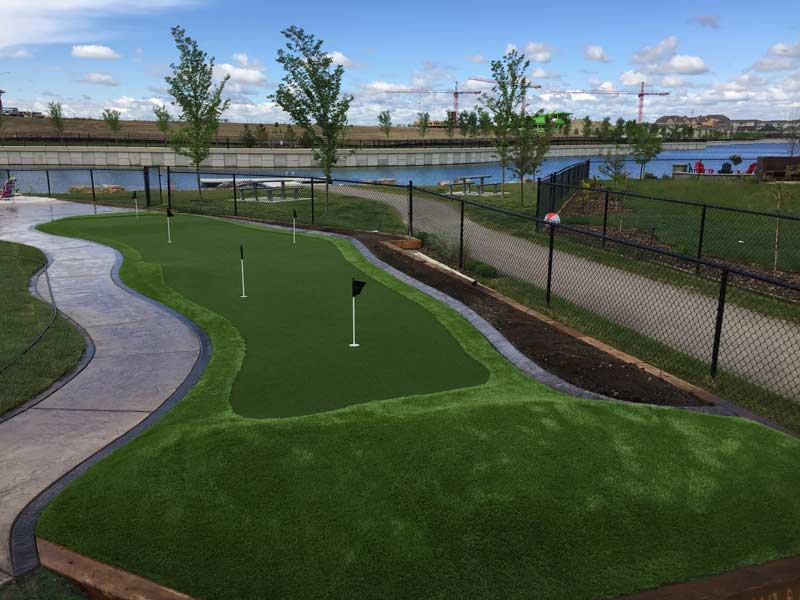 Benefits of Artificial Grass
You likely have natural grass at your home. Do you enjoy going every weekend and mowing or watering the lawn? No, you hate it, and you don't want to have to do it for your mini golf course.
The biggest benefit of artificial grass for your mini golf course is it doesn't require any maintenance. There's no watering or chemicals needed to keep it lush and green.
It's also incredibly durable. A good synthetic mini golf green is not just about the ball rolling across the artificial grass evenly. You also need to worry about small children pounding their putter into your turf. And those aggressive customers who continuously hit the turf instead of the ball. Our mini golf turf stands up to abuse year after year.
Start Your Mini Golf Dream Today
If you've ever wanted to have a mini golf course of your own, then consider artificial grass from SYNLawn Alabama. We have many years of experience in the design, installation, and manufacture of high-quality mini golf greens.
If you're interested in learning more from our team of professionals, then please feel free to contact us today.