PUTTING GREENS IN ALABAMA
Indoor & Outdoor Practice Golf Greens for Birmingham, Montgomery, Huntsville and all of Alabama
Avid golfers in Alabama know how important it is to practice their short game. This is the best way to improve your performance at the golf course and get lasting results from your practice. Installing an artificial golf green at your home is one of the most convenient ways to practice putting and allows you to take what you learn in your backyard straight to the golf course. Golf enthusiasts and casual players alike will love our signature synthetic golf systems.
SYNLawn worked with pro golfer and expert instructor, Dave Pelz, to develop industry-leading golf greens that can be installed in your backyard or inside your home. SYNLawn golf greens replicate natural golf surfaces so you can take what you learn at home straight to your favorite courses. SYNLawn artificial turf golf systems feature consistent ball roll with natural slow-down characteristics just like those you would find on the greens at a luxury golf club.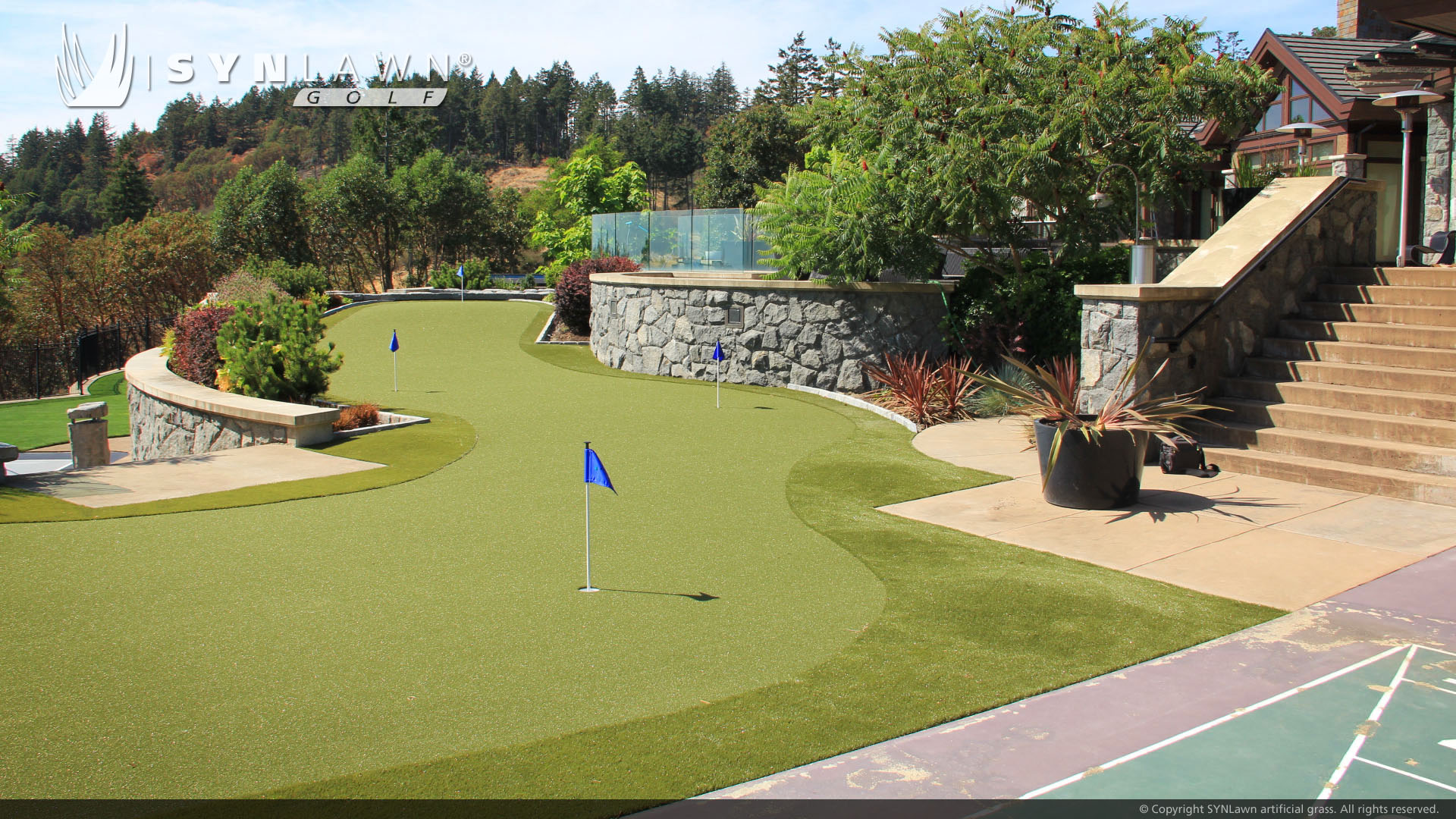 Backyard Putting Greens
Besides looking magnificent, there are many reasons why homeowners like yourself in Alabama choose to get backyard putting greens installed in their yard. A major advantage of golf putting greens from SYNLawn Alabama is that they are fully customizable to your needs. This allows you to craft the ideal putting green to practice on, whenever you want to. Because our golf greens are able to drain quickly, you'll be able to play your favorite game even after a major rainstorm. No matter the weather conditions outside, or how many people walk over the synthetic golf grass, it will always maintain its look and mimic the grass that the pros use. As a final benefit, our artificial golf greens are extremely low maintenance, so you won't need to spend time watering your lawn or waste money hiring a gardener.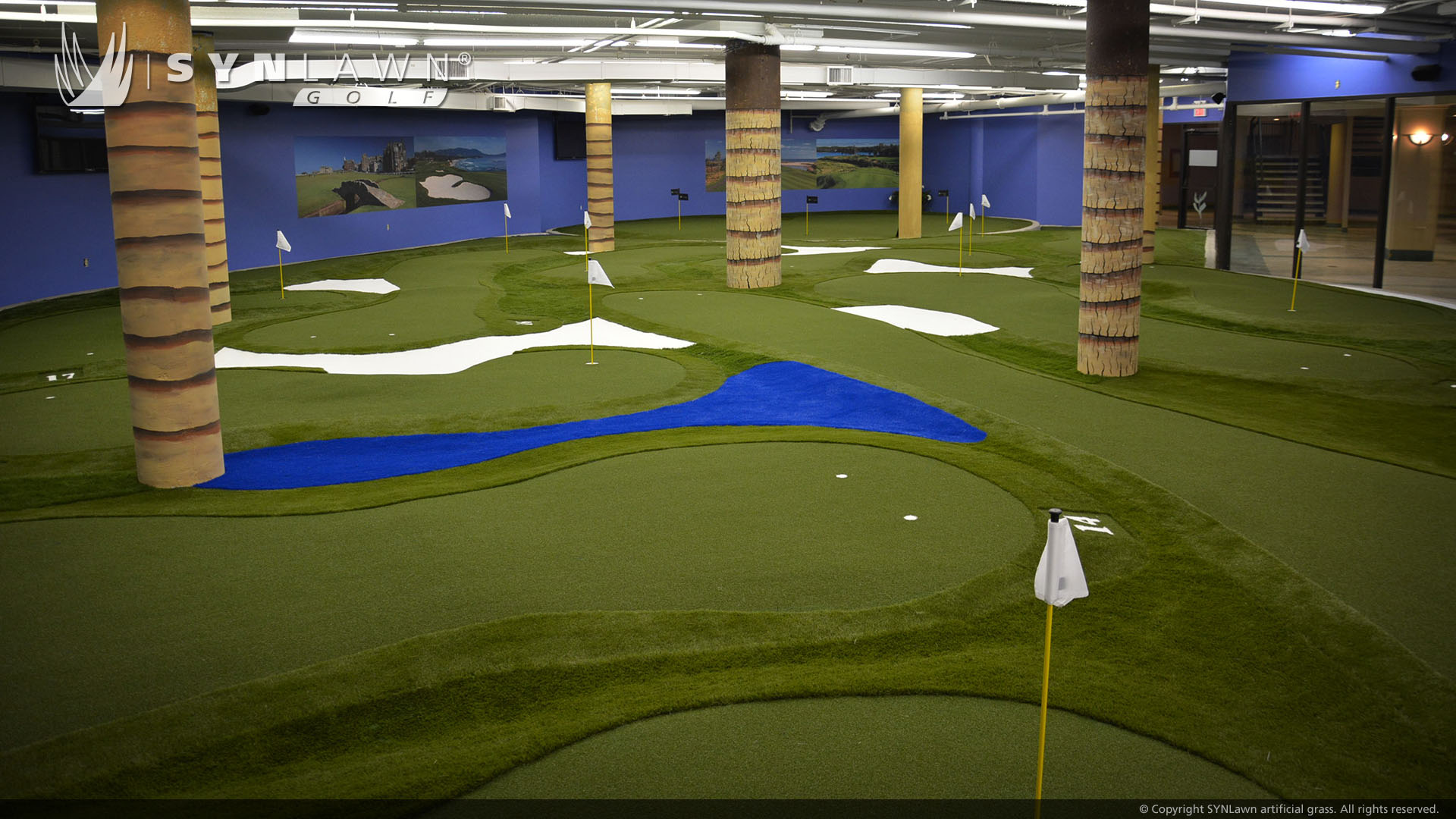 Commercial Putting Greens
If you're looking for commercial putting greens, we at SYNLawn Alabama have just what you need. Our strict quality control standards ensure that you are getting the highest quality synthetic golf grass possible. Also, we customize everything according to your needs and can provide you with any type of artificial golf greens that you request. So whether you want medium, short, or long-length golf grass, we can create it for you.
Another reason why our commercial putting green grass is ideal is due to its durability. Due to how strong it is, it is able to resist wear and tear that affects regular grass. While regular golf grass can easily break and become uneven due to being walked on, this won't happen with our synthetic golf turf. Because of how robust it is, it is even able to resist divots being created by golf swings that would otherwise damage regular grass.
Finally, our commercial golf greens have a very low upkeep which will save you money. Because our grass is synthetic, it doesn't need to be constantly watered or be tended to by gardening equipment. This can mean you save a substantial amount of money on water and not having to hire a maintenance crew to maintain your commercial golf grass.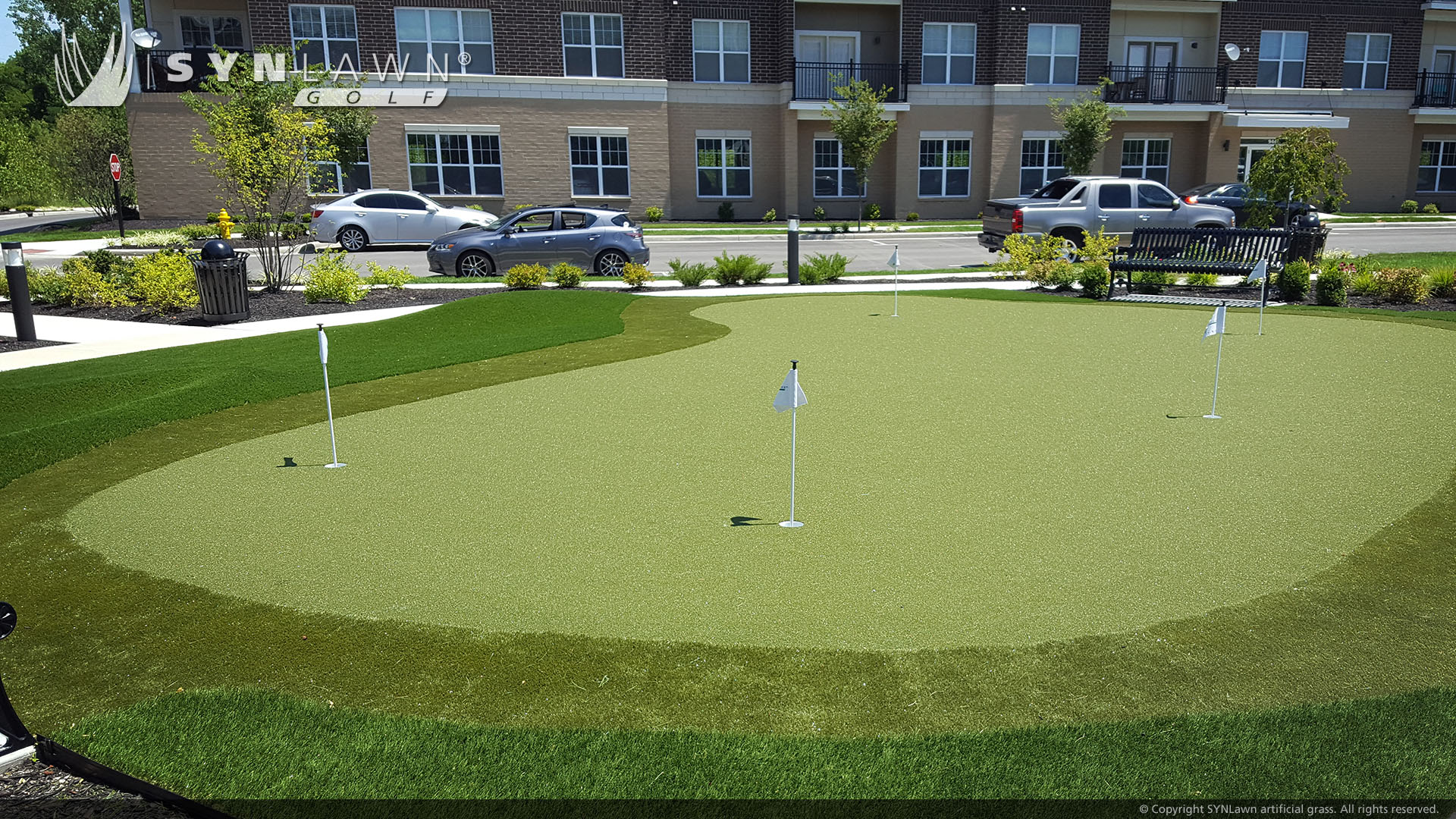 Putting Green Installation
The quality of installation is just as important as the artificial grass product. Through the entire process, our team will ensure that your synthetic golf greens are installed accurately per your specifications, including any terrain changes needed. We can even install putting greens on existing landscapes and customize them for golfers at any skill level.
SYNLawn Alabama has a variety of artificial golf greens available for installation. Depending on the size of your space and the details of your project, our team will help you decide which types of artificial golf grass will work best. We even offer fairway and fringe textures that give you a realistic surface to play on. You can choose from permanent fixtures, or our easy-to-assemble Green Maker. For the Green Maker you can choose from four sizes and assemble or disassemble in minutes on any flat surface. Our portable fairway mats are also great for offices of homes with limited space.
Our team takes the time to listen to your needs so we can help you decide which putting surface will work best for your residential or commercial property. View available golf greens below or contact us to schedule your free on-site quote.