Commercial Artificial Grass
Durable synthetic lawns for Alabama businesses and commercial properties
A great first impression is important for any commercial property from Montgomery to Birmingham. Artificial grass helps create a beautiful landscape that will draw people in without the maintenance that natural grass requires. At SYNLawn Alabama, we offer various natural-looking artificial grass systems that stand up to heavy foot traffic, require minimal maintenance and look great all year long!
Save Time and Money
Running a successful business should be your first priority – not landscaping or lawn maintenance. Natural grass requires a great deal of upkeep in order to maintain a lush, green appearance. Artificial grass installation eliminates tedious lawn care tasks, saving precious time for more important tasks that will grow your business.
Business owners and commercial property managers can expect to see a quick return on investment shortly after synthetic grass is installed. Water is no longer needed to maintain your outdoor space, which means that your monthly water bill will be significantly lower.
Industry-Leading Safety Features
Whether you own a local shop with a small storefront or a large shopping center, anyone visiting your commercial property expects to be safe at all times. At SYNLawn Alabama, we are proud to share that several of our commercial artificial grass systems have a Class 1 fire rating. Our products were one of the first to pass ASTM International requirements in the industry and since then, we've been dedicated to meeting safety milestones. We are also members of IPEMA (International Playground Equipment Manufacturers Association), which certifies that our installation methods meet rigid safety standards to protect children from falls and injuries.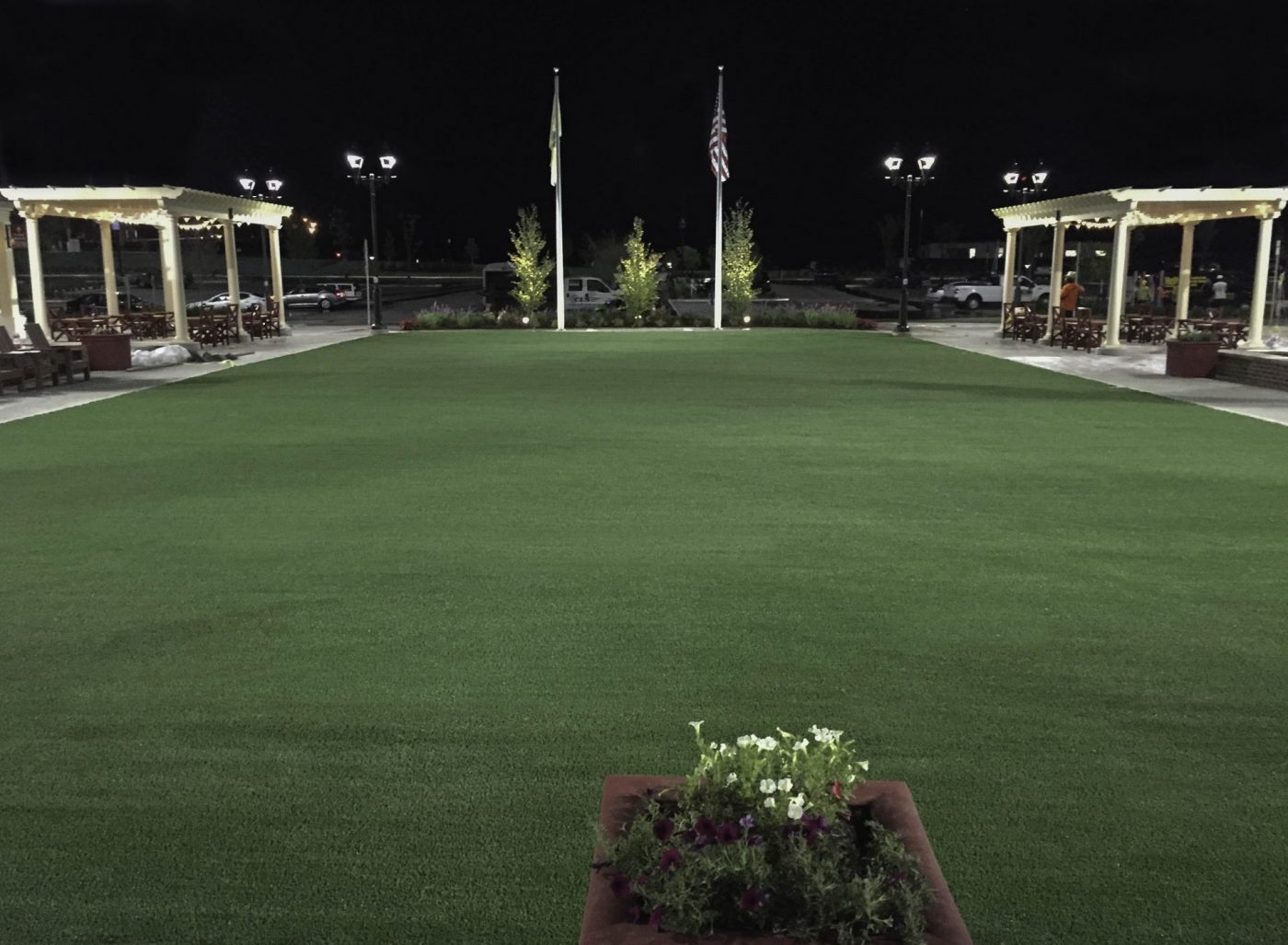 Environmentally-Friendly Synthetic Materials
SYNLawn is dedicated to promoting environmental sustainability which is why our product line is constantly evolving and improving. In addition to using renewable and recyclable materials during the manufacturing process, our commercial artificial grass can also help your business qualify for LEED credits. If your company has received certification from the U.S. Green Building Council, you can receive credit for your environmentally-friendly efforts.
A custom landscape design will boost curb appeal and draw in new business. Our artificial grass installations create a unique and interesting focal point for any commercial property throughout Montgomery and Birmingham. There is no space too large or small for artificial grass installation. Consider the following applications:
Indoor and outdoor putting greens
Dog park or daycare
Playground and park
Sporting fields
Rooftops, patios, and decks
Retail shops
Restaurants
The contractors at SYNLawn Alabama can create one-of-a-kind designs that will help you attract new customers. We offer a free on-site evaluation to determine what system will work best on your commercial property. Contact us today to request your free quote.