Artificial Grass For Sale & Installation in Florence, AL
At SYNLawn Alabama, our experts provide artificial grass for sale and installation in Florence, AL. We offer a wide variety of leading-edge synthetic grass and turf products. As a result, we have surfacing solutions for different needs of all kinds of properties, including residential, commercial, and municipal properties in Florence, Alabama. Find out more about what our artificial turf experts can do for you and your property today!
Why Choose SYNLawn Alabama for Artificial Turf in Florence, AL?
Presently, there are a number of surfacing options and artificial turf companies available to home and business owners in Florence, Alabama. Yet, of all these options, our team at SYNLawn Alabama is perhaps the best you can choose! We not only sell some of the best synthetic grass in the industry, but we also provide comprehensive design and installation services. As such, we are a full-service artificial grass company serving communities across Alabama, including Florence, AL. So let our team help pair you with a synthetic surface that addresses your unique needs and then equip it to your property for a top-of-the-line lawn, landscape, or putting green.

Benefits of Our Synthetic Grass Products
With artificial grass added to your Florence home, business, or other type of property, you can experience several benefits thanks to the many features of our products. Some of the many benefits of equipping your property with our artificial turf include:
Beautiful lush, green surfaces
A reliable look & feel
Enhanced durability
Weather-resistance
Little to no maintenance
No watering
No trimming
Environmentally friendly lawns, landscapes, or putting greens
Learn more about the benefits of installing synthetic grass by contacting our friendly team today!
Our Selection of Artificial Grass Available in Florence, AL
For properties in Florence, AL, our team offers numerous artificial turf options. Some of our most popular include the following:

Residential Lawns
Lawns can be a point of pride for homeowners. They can also be a constant source of aggravation if your lawn is made up of traditional grass. Despite one's best efforts, conventional grass requires near-constant maintenance, and even then, it sometimes looks far less than ideal. Fortunately, at SYNLawn Alabama, we offer artificial grass lawns that always look their best and eliminate the hassles of upkeep. In doing so, homeowners can be proud of their beautiful green front or backyard without having to spend hours and countless dollars maintaining it.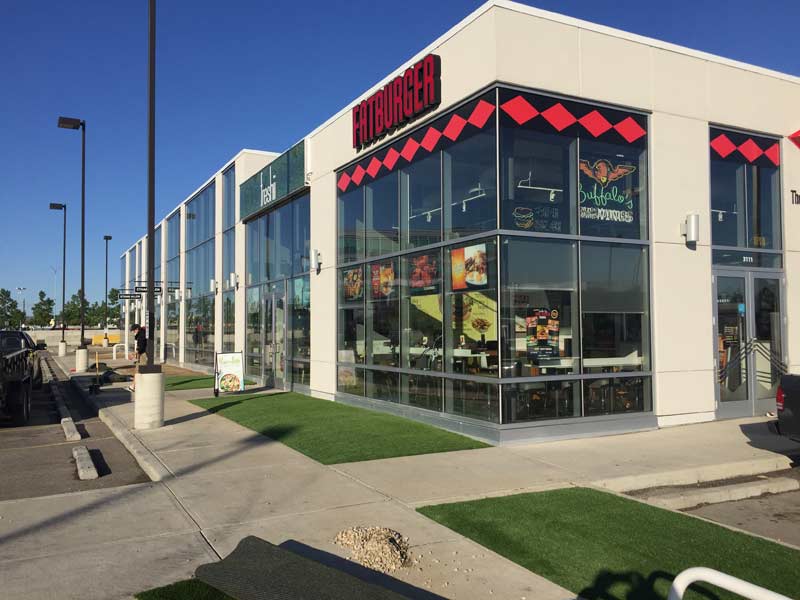 Commercial Applications
Businesses in Florence, AL serve a variety of customers and clients. But no matter if you own or operate a retail store, office, restaurant, or other type of business, you can benefit from switching to our commercial artificial grass. We offer numerous varieties of turf that can help address different needs. Best of all, our commercial synthetic turf is highly durable and low-maintenance, so it provides a long-lasting, cost-effective surface.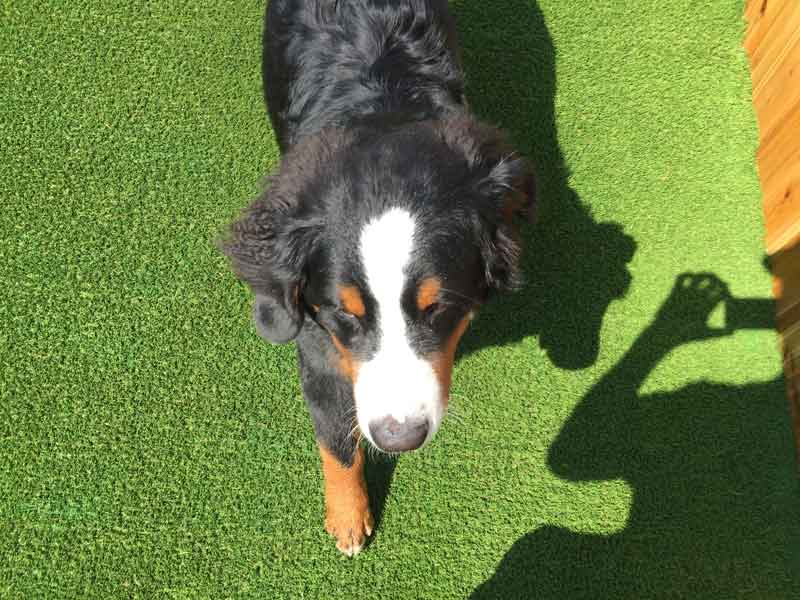 Dog Turf & Pet Grass
Dogs and other household pets usually enjoy spending as much time outdoors as possible. Unfortunately, certain surfaces can make this more difficult. For example, concrete can become too hot in the summer for paws, dirt can lead to dirty pets, and traditional grass can easily be torn up or killed off by dogs and their waste. Luckily, for properties in Florence, AL, we offer highly specialized artificial dog turf and pet grass. This grass is comfortable, durable, and easy to clean, which makes it perfect for homes as well as pet-friendly businesses.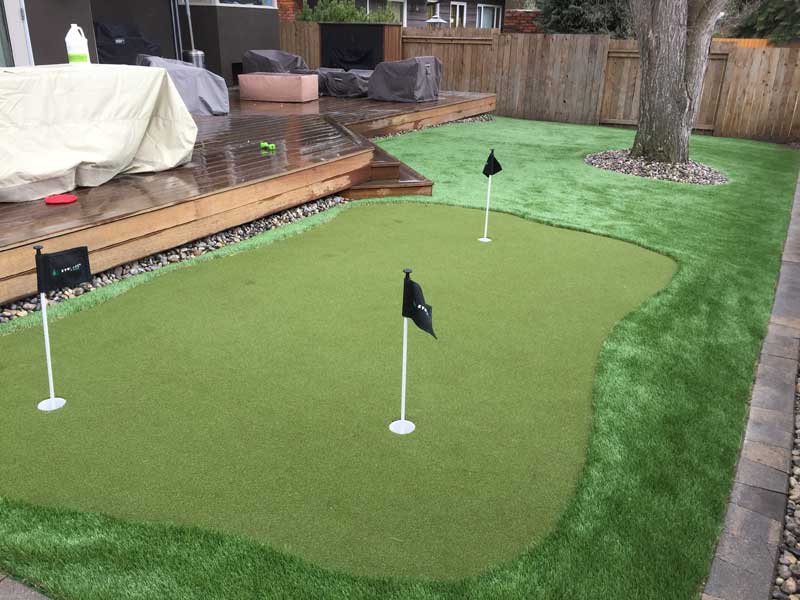 Artificial Putting Greens
Like other Alabama communities, Florence is no stranger to golfers. It is a community filled with those who appreciate the game and desire to play it as much as possible. At SYNLawn Alabama, our team can help with this! We offer incredible artificial golf grass, which we use when designing and installing beautiful putting greens. Our team is available to design and install personalized putting greens for homes, businesses, and more in Florence, AL!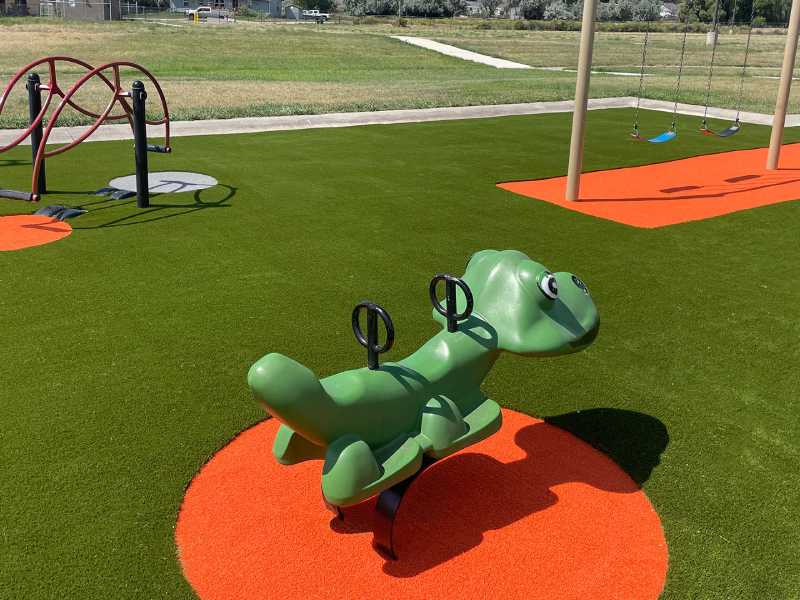 Playgrounds
Playgrounds across Florence, Alabama can become safer by switching to our artificial playground turf. Unlike typical playground surfaces, such as sand, wood chips, and traditional grass, our synthetic playground turf retains an even and level surface. This helps prevent children from tripping and falling. Best of all, our playground turf also features an extra layer of cushioning, which can help reduce the risk of potentially serious injuries due to impacts with the surface.
Get a Quote for Synthetic Turf in Florence, Alabama Today!
At SYNLawn Alabama, our team is ready and waiting to equip your property with artificial grass in Florence, AL. We offer several types of highly beneficial synthetic turf; each of which can help improve the surfaces on a residential, commercial, or other type of property. So contact us at SYNLawn Alabama to get a quote for our artificial turf in Florence, AL!