Here at SYNLawn Alabama, our artificial grass putting greens can help transform your backyard in Birmingham, AL into any golfer's dream. Are you tired of always commuting to your local golf course to get your practice in for the week? Do you want to more easily involve your kids in your hobbies? At SYNLawn Alabama, we have the solution for you! So why not transform your backyard with one of our incredible artificial putting greens? With a synthetic grass putting green, you can improve your game while saving money, which is a win-win if you ask us.
Find out more about what one of our backyard putting greens can do for you and your home below: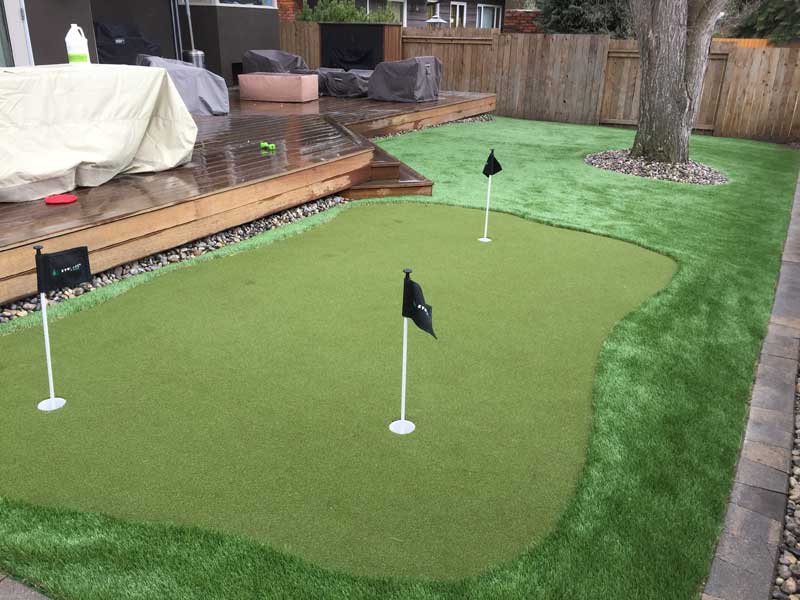 Aids in Improving Your Golfing Skills
Never is the phrase "practice makes perfect" more accurate than with the game of golf. Fortunately, having a backyard putting green does just that! With it, you can walk outside and practice the game whenever it is convenient for your schedule. You can even call your friends and family to set up tournaments and putting competitions from the comfort of your own home.
So grab your favorite putter and head out to your backyard when you have free time. Our artificial backyard putting grass saves on the hassle of always going to the golf course, which can be tiring, time-consuming, and expensive. Instead, by more conveniently practicing, you and your fellow golfers can certainly notice an improvement in your skills during your next game.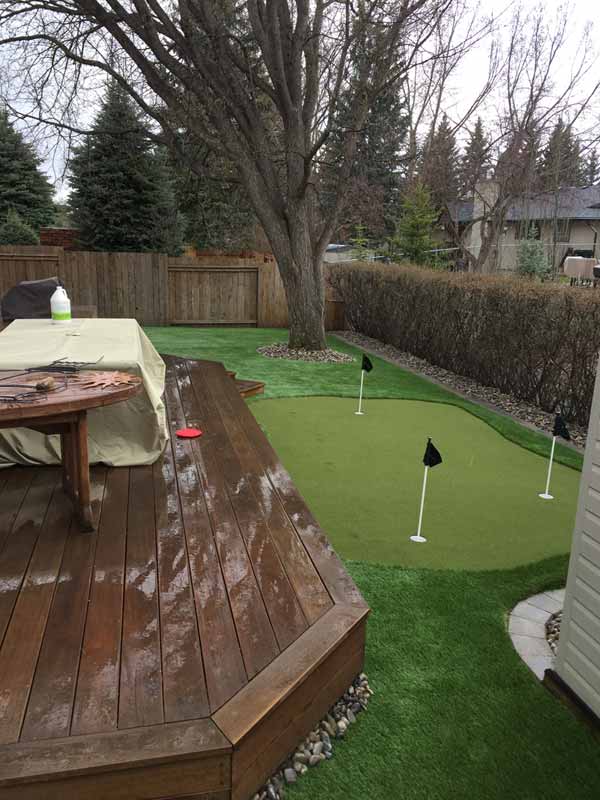 Artificial Grass is Low-Maintenance
An advantage of artificial putting greens and artificial grass over traditional grass backyards is that they require much less maintenance. For example, our synthetic golf turf does not need any watering or trimming. So you do not need to worry about spending extra time making sure your putting green is ready for use. Ultimately, with an artificial grass putting green from us at SYNLawn Alabama, all your free time can be spent practicing your skills and not on traditional grass maintenance.
Artificial Grass is Less Expensive
The low maintenance qualities of our artificial putting green means that they are also a cheaper alternative to conventional putting greens. With a more traditional backyard putting green, you often need to pay for landscaping, watering, and trimming to ensure it is ready to use. So, while our artificial putting green typically has a higher upfront cost, you can save money over time by saving considerably by eliminating ongoing maintenance, such as watering, fertilizing, trimming, and other forms of general grass maintenance.
Share your Hobbies with Family and Friends
There is nothing more important than our loved ones. An artificial backyard putting green golf course allows you to easily share your hobby with the ones closest to you, which is something nearly every golfer wants to have. So picture this: having your friends and family together on the weekends for food and drinks and a friendly golf match. For many, this reason is enough to add a beautiful artificial putting green to their backyard in Birmingham, Alabama.

Golfers Love the Grass for its Durability
Another exceptional benefit of artificial golf greens from SYNLawn Alabama is their durability. With one of our synthetic backyard putting greens, you do not have to worry about the grass falling apart from the impact of the golf club or ripping off when stepped on. The materials used to make our artificial putting greens are incredibly strong and designed to withstand impacts, foot traffic, inclement weather, and more. As such, our durable golf grass helps save you time and money!
Overall Neatness
Although our artificial putting greens are incredibly useful, they are also highly attractive. Our incredibly realistic synthetic golf grass can help give your backyard an elevated look. In doing so, it provides your backyard with a clean and organized look all year round – in inclement and changing weather conditions.
For More Information, Contact Us Today!
Transforming your backyard in Birmingham, Alabama, with an artificial putting green from us at SYNLawn Alabama is an excellent way to improve your golfing skills, save money, and share your favorite game with family and friends. Our artificial golf grass is playable, low maintenance, less expensive, durable, and attractive, making it a smart investment for any golfer. So, if you are looking for a way to enjoy golfing from the comfort of your own home, consider installing an artificial putting green in your backyard today! Contact us to learn more and get a free quote!