Artificial Grass in Mountain Brook, Alabama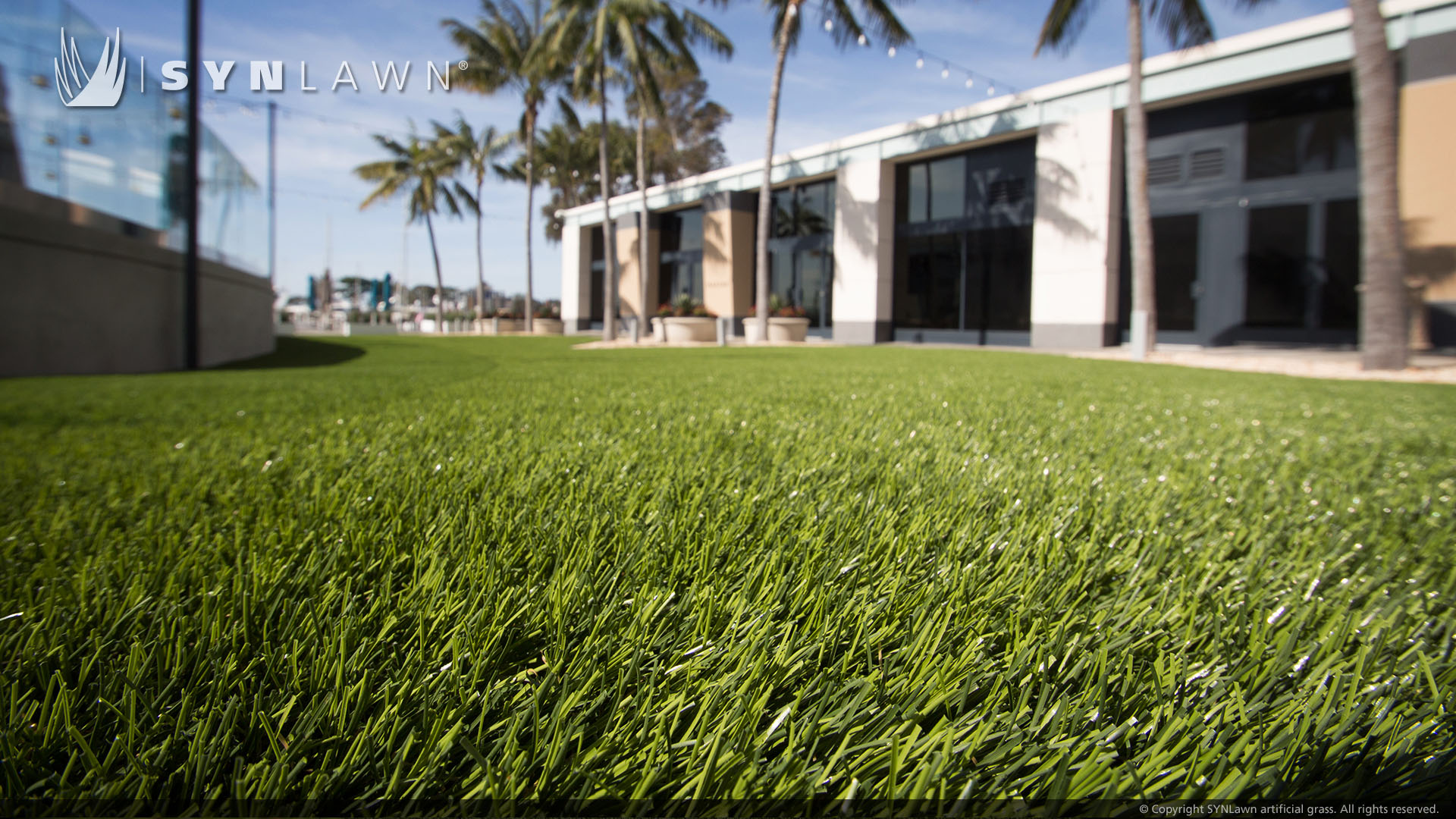 Artificial Grass is becoming more popular throughout the state of Alabama and townships such as Mountain Brook, AL. While most people associate artificial turf with things such as football stadiums and golf, its uses are much more extensive and vast. Artificial grass is used for transforming a dull landscape into a lush green paradise. It can also provide a recreational playground or park for children, and even outfit a doggy daycare with pet grass and dog runs to keep even the most active pet happily content all day.
Given all the advantages offered by artificial turf, it isn't hard to see why it is catching on more with both homeowners and commercial businesses. From looking great, being easy to maintain, being pet and kid-friendly, to being fantastic for water conservation, there are many benefits to be had by using synthetic turf made by us, from SYNLawn Alabama.
Benefits You Get from Artificial Grass
Minimal Upkeep
A major benefit of our artificial turf for both homeowners and business owners is just how easy it is to take care of and maintain. Once we install a new synthetic grass lawn, you'll enjoy the time saved from the effort you spent tending to it week after week, year after year. Your new artificial grass lawn doesn't need constant care and attention — no need to be fertilized, mowed, or closely looked after. Once it is installed, it's virtually maintenance-free.
Saves You Time & Money
When it comes to spending money on artificial grass, after the initial purchase the costs are very minimal in order to maintain its condition. With this low level of upkeep, you can spend your time and money on activities you truly enjoy. The days of spending money on landscapers, lawn equipment, and paying high water bills will become a thing of the past.
Always Pleasing To The Eye
Our synthetic turf always looks lush, green, and aesthetically on point. It's like its immaculate beauty is frozen in time since it never develops dead brown patches, weeds, overgrown grass, or other things that can detract from a lawn's beauty. Your lush, green, perfectly cut artificial grass will be a pleasure to behold by anyone who sees it, whether that is a visitor to your house or a potential customer at your location of business.
Kid-Friendly
Our artificial turf and playground grass offer amazing options for kids to play on. Not only does our turf mimic the feel of regular grass, but it is built to absorb shock, which better protects from falls. It's also completely non-toxic and non-allergenic, meaning kids will be free to play on it as much as they want with zero worries.
Very Suitable For Pets
Our dog turf is amazing for pets—especially ones that like to dig. Because the artificial turf is built for strength, it can easily resist dogs trying to dig their paws into it, no matter how much they may try. This not only means your yard looks better, but a synthetic pet lawn offers more security for your dog. This also makes a yard escape significantly less likely. Furthermore, harmful insects like ticks and fleas don't like living on artificial turf, as it isn't their natural habitat. So, with artificial turf, dog grass, or synthetic pet grass play area, your dog will be less likely to encounter these pests.
It Comes With Quick Draining Technology
Dealing with drenched grass covered with mud puddles can be a huge pain after a storm. Not only is it visually unappealing, but it also keeps yourself and others from doing activities on it. Additionally, with traditional lawns, if you have pets such as dogs, dog urine can accumulate on your lawn, which can lead to unpleasant odors and brown patches. With our synthetic grass, it drains quickly, so odors don't build and large puddles of water and mud don't accumulate. 
Designed with the Environment in Mind

Our synthetic grass is built to be appropriate for the environment and not cause harm. Because of its durability, it doesn't need a replacement for many years. Therefore, you won't have to fret about it being dumped in a location and adding to pollution. Chemical treatment is also unnecessary with our synthetic grass. No chemical treatment or fertilizers being needed means no chemicals will leach into the local water table, as they do with a traditional sod lawn. Finally, our turf is ideal for conserving water, as it never needs to be watered.
Installation Options With Our Artificial Turf
Just like there are a wide variety of benefits to be had from our synthetic grass, there are also a wide variety of installation options for all sorts of needs. Popular applications of our synthetic grass include, but are not limited to, the following:
Front Yards & Backyards
From being a delight to look at, to be low maintenance, to saving time and money, it's no wonder why our artificial grass is often chosen for front yards and backyards. Having our synthetic grass in your front yard is bound to create a positive impression on anyone passing by your house, and having it in your backyard is a great way to create a pleasant and relaxing ambiance.
Pet & Dog Turf
Our artificial pet turf is fantastic to use for your own home, dog runs, doggy daycares, and plenty of other applications. Our pet turf is safe, secure, non-toxic, and a joy to play on. Additionally, our dog turf will leave no grass stains on your dog and is non-allergenic. Finally, it drains dog urine quickly, is odor resistant, and makes it simple to clean pet waste off of it.
Putting Greens
A very notable feature of our artificial putting greens is how it looks and feels just like the golf grass the pros play on. You'll be able to practice to your heart's content and enjoy playing on it, whether in your backyard or we even can install full golf greens and golf courses for any residential or commercial Mountain Brook, AL location. 
Commercial Business Uses
Whether our artificial turf is applied indoors or outdoors to a commercial business, it can be a great addition. From gyms to shopping centers, to hotel rooftops, to simple outdoor landscaping, our synthetic turf can be customized for many uses. Contact our design team today to get started on your Mountain Brook, AL artificial grass lawn, playground, sports turf, putting green or more.
About Us At SYNLawn Alabama
At SYNLawn Alabama, we are experts in the artificial grass industry and have served not just Mountain Brook, AL, but all over the entire state. What makes us stand out is that we maintain control over the whole production process of our synthetic turf. This means we can guarantee exceptional quality in our product. Additionally, all of our products are American-made.
At SYNLawn Alabama, we are exceptional at what we do and passionate about it. We will listen closely to your needs to come up with an optimal solution that you'll find to your liking.
Contact Us For A Free Consultation
To get started, simply contact us here and one of our helpful staff members will assist you. 
Our first consultation with you is always free regarding your pet grass, playground, sport turf, putting greens or artificial grass lawn for your home or office in Mountain Brook, Alabama and the surrounding region.