Artificial Grass in Huntsville, Alabama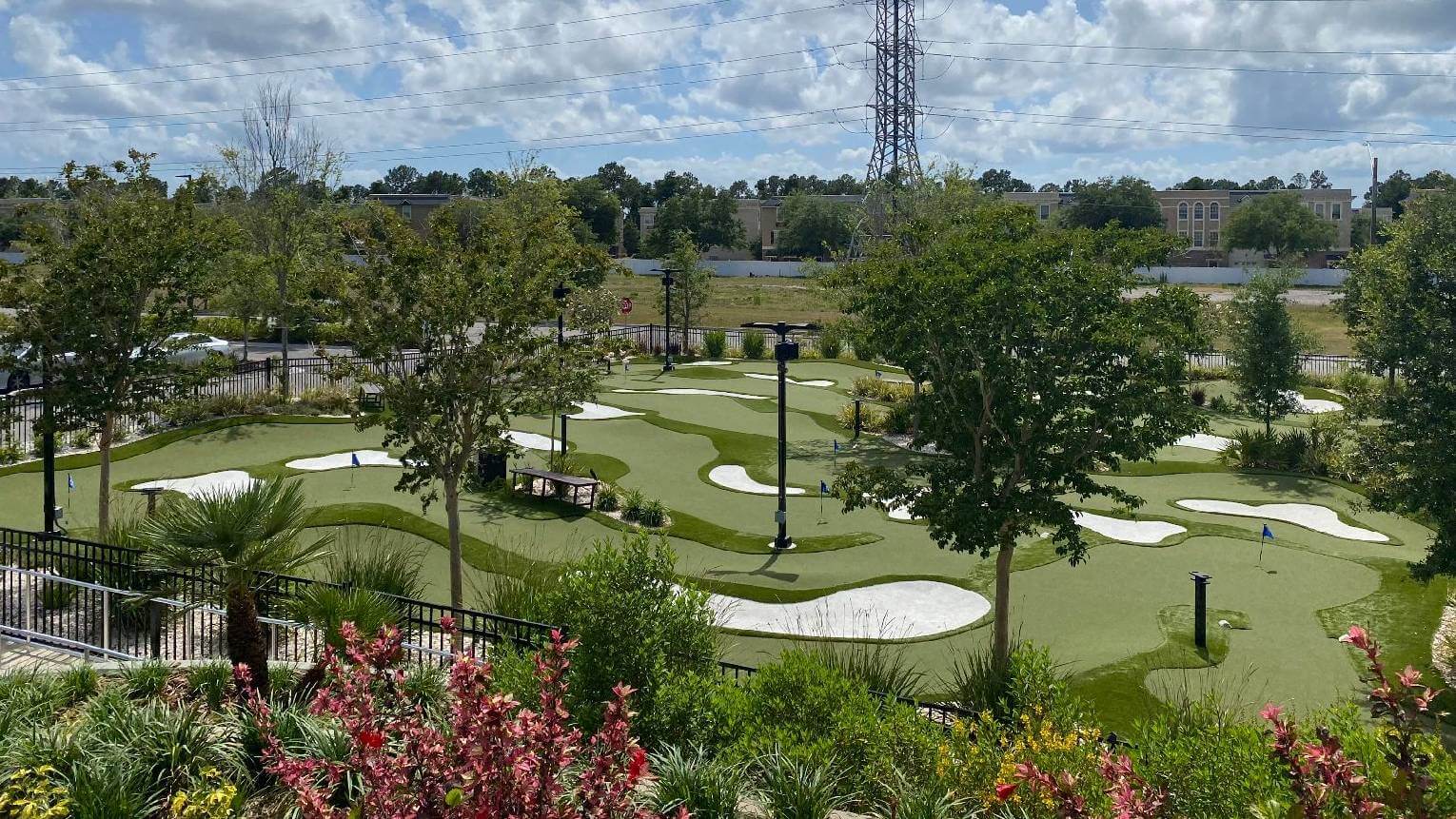 A typical lawn can cost you money and time that you can't get back. With SYNLawn's artificial grass in Huntsville, Alabama, you can stop letting both of those go to waste before you start. Our synthetic grass is safe, eco-friendly, and made from industry-leading products to revamp your landscape and make it easier to maintain.
Whether you need commercial artificial grass, pet and dog turf, athletic turf, or playground turf, SYNLawn has the synthetic grass you need. With our artificial grass, you won't have to worry about the laborious or expensive maintenance that you typically find with ordinary lawns.
Benefits
Artificial grass doesn't just transform your yard into a pristine landscape; it provides many benefits to the environment, you, and your wallet. All of our artificial grass options require little to no maintenance and contain renewable material so you can save money, water, time, and reduce your carbon footprint.
Water Savings
No more dusting the cobwebs off your sprinkler system or hiring a maintenance worker to do the job for you, because artificial grass doesn't need any watering. Artificial grass doesn't grow, so it doesn't require any water source. This conservation of water will not only reduce your monthly water bill immensely; it will cut back on the amount of water you use as well.
The amount of water wasted from sprinkler systems adds up to gallons at the end of each month. While this surplus increases your water bill, it is also very wasteful. Thankfully, artificial grass will save you both time and prevent water waste.
Eco Benefits
Like artificial grass's ability to decrease your water waste, it too benefits the environment in its composition. SYNLawn carefully constructs artificial grass of renewable materials rather than harsh synthetic, chemically manipulated ones. These renewable materials, thanks to SYNLawn's ENviroLoc technology, are bio-based. We've swapped out what's typically petroleum-based polymers for plant-based polymers.
Artificial grass's composition allows for its low maintenance. You won't have to waste water and can minimize your pollution output from having to use landscaping equipment. Our synthetic grass also has a lifetime warranty guarantee, reducing your carbon footprint further since you won't have to throw out the turf over time.
Time
The most exhausting part of having a lawn in Huntsville, Alabama, is the upkeep. You spend a lot of time exerting your energy, pulling weeds, mowing, weed whacking, and watering. It adds up. With artificial grass, however, you don't have to do all of that work. Instead, you can enjoy the outdoors as you please and still reap the rewards of a lush, green lawn.
Money
Saving money is always a plus when it comes to making changes. With artificial grass, you can save a lot. What you would typically spend on landscaping equipment, lawn services, and your sprinkler system will go back into your pocket because artificial grass doesn't require any of that.

What is Artificial Grass Used for?
You can use artificial grass for just about anything you would use regular, natural grass for. It's most typically known for athletic turfs such as football and soccer fields; however, its popularity has increased for commercial use because it's low maintenance, eco-friendly, and saves money.
SYNLawn offers a range of high quality commercial artificial grass installations for pet and dog turf, playground turf, and even putting greens.
Why Use SYNLawn Artificial Grass?
As homeowners in Huntsville, AL, you want the best for your lawn, but you don't want to break the bank or your back for it. At SYNLawn, we're homeowners too, so we get it. That's why SYNLawn makes artificial grass with industry-leading materials so you can achieve your ideal, low maintenance lawn.
Contact Us
For a free consultation about your landscaping needs, ​contact by email here or by phone​ at (205) 590-9549. Whether you need commercial artificial grass, playground turf, or pet and dog turf, SYNLawn of Alabama is committed to providing you excellence.